KETIDAKLAZIMAN DIKSI DALAM MEMBUAT KOLOKASI LEKSIKAL (TIPE VERB + NOUN DAN TIPE ADJECTIVE + NOUN)
Gigih Ariastuti Purwandari

Unsoed
Abstract
Collocation is the combination of two or more verbs precisely, for example the word interested has to be combined with the word into form interested in. Interested in is the precise or appropriate combination. But, some students sometimes combine the word interested with the word with.  Whereas, interested with is not appropriate. This research discusses the inappropriateness of the diction of making lexcical collocation (type Verb + noun and type adjective + noun) in International Business students of Faculty of Economics and Business Universitas Jenderal Soedirman. This research uses qualitative descriptive method. The data were collected by using a collocation test in sentences and short paragraph. Analysis was conducted by counting the inapropriateness of collocation tested to the respondents. The result showed that frequency of inappropriateness of using lexical collocation type adjective + noun were higher than tye verb + noun. Interlingual was the factor influeced of using two types of  lexical collocation. The mother tongue's influnce determined  their diction of making apprpriate lexical collocation.
References
Baker, M. (1992) In Other Words: a Course Book on Translation. London: Routledge.
Barfield, A. and Gyllstad, H. (2009) Researching Collocations in Another Language: Multiple Interpretations. Mac Millan: Palgrave.
Benson, M., Benson, E., & Ilson, R. (1997) The BBI Dictionary of English Word Combinations. Philadelphia: John Benjamins.
Lewis, M. (2002) Implementing the Lexical Approach: Putting Theory into Practice. Heinle: Thomson Corporation.
Mark, J. and Wooder, A. (2007) Check Your Vocabulary for Natural English Collocation.London : A&C Black
Publisher Ltd.
Oxford Collocation Dictionary for Students of English (2002) New York: Oxford University Press.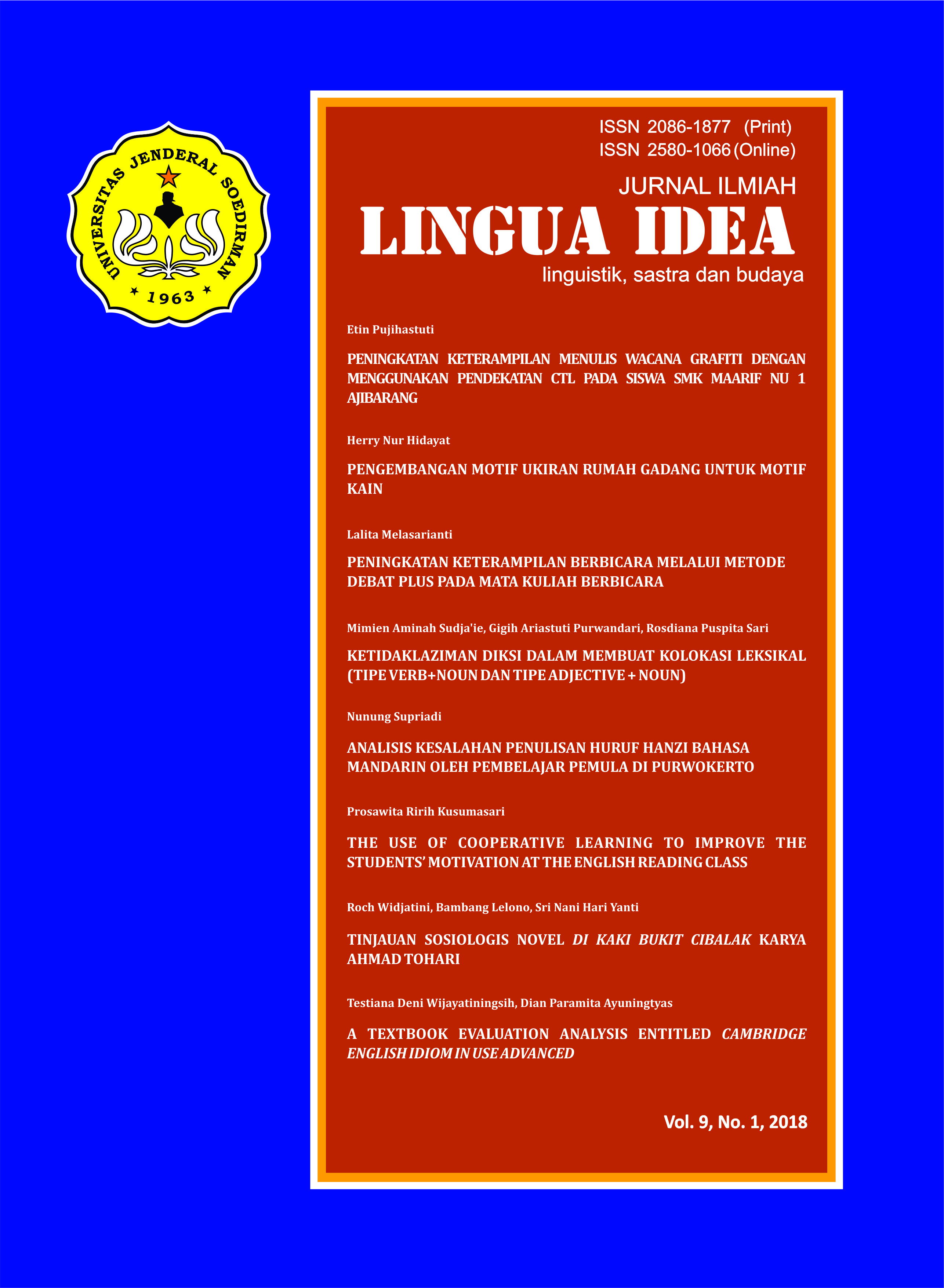 How to Cite
PURWANDARI, Gigih Ariastuti. KETIDAKLAZIMAN DIKSI DALAM MEMBUAT KOLOKASI LEKSIKAL (TIPE VERB + NOUN DAN TIPE ADJECTIVE + NOUN).
Jurnal Ilmiah Lingua Idea
, [S.l.], v. 9, n. 1, p. 29-34, may 2018. ISSN 2580-1066. Available at: <
http://jos.unsoed.ac.id/index.php/jli/article/view/316
>. Date accessed: 21 oct. 2019.
Authors who publish with this journal agree to the following terms:
(1) Authors retain copyright and grant the journal right of first publication with the work simultaneously licensed under a Creative Commons Attribution License that allows others to share the work with an acknowledgment of the work's authorship and initial publication in this journal.
(2) Authors are able to enter into separate, additional contractual arrangements for the non-exclusive distribution of the journal's published version of the work (e.g., post it to an institutional repository or publish it in a book), with an acknowledgment of its initial publication in this journal.
(3) Authors should sign a copyright transfer agreement when they have approved the final proofs sent by Jurnal Ilmiah Lingua Idea prior to the publication.