The Use of Nominal Phrases in Terminology of Covid-19 in Online Media (Syntax Study)
Nabila Auliya

Universitas Sebelas Maret, Indonesia

Kusnul Khatimah

Universitas Sebelas Maret, Indonesia

Sumarlam Sumarlam

Universitas Sebelas Maret, Indonesia
Abstract
This study aims to describe the use of noun phrase in from the terms of COVID-19 in CNNIndonesia.com online news. The object of this research is the nominal phrase found in the terms of COVID-19 in the  CNN Indonesia.com online news . The data source of this research is 8 news articles that has been uploaded by CNNIndonesia.com online news from  26 to 27 march 2020. The method used in the provision of data is the observing method by using taking note technique. The method used in analyzing the data is the distributional method. The results of this research revealed  that there were  27 nominal phrases used in 8 news articles that has been uploaded by CNNIndonesia.com online news from  26 to 27 March 2020.
References
Afandi, I. (2018). Analisis Penggunaan Frasa Nomina dari Segi Sintaksis dalam Teks Akademik (Tesis). Jurnal Research Gate.

Arifin, Z dan Junaiyah. (2009). Sintaksis. Jakarta: PT Grasindo.

Chaer, A. (2009). Sintaksis Bahasa Indonesia (Pendekatan Proses). Jakarta Rineka Cipta.

Dongalemba, R. M. (2018). Fungsi Eksternal dan Kategori Frasa Nomina Bahasa Melayu Menado. Jurnal Kajian Linguistik. Nomor 1, hlm 38-51.

Faisal. (2009). Bahan Ajar Cetak Kajian Bahasa Indonesia SD 3 SKS. Jakarta: Direktorat Jenderal Pendidikan Tinggi Departemen Pendidikan Nasional.

Jerniati, I. (2013). Posisi Pewatas Dalam Frasa Nomina Bahasa Mandar: Suatu Pendekatan Transformasi Generatif. Jurnal Sawerigading. Volume (19), Nomor 1, hlm 7-15.

Manaf, N. A. (2009). Sintaksis: Teori dan Terapannya dalam Bahasa Indonesia. Padang: Sukabina Press.

Permana, D. (2010). Frasa Nominal dalam Bahasa Banjar Samarinda. Jurnal EKSIS. Volume (6), Nomor 1, 1375-1379.

Rahman, M. (2015). Penggunaan Frasa Bahasa Indonesia dalam Karangan Siswa Kelas VII MTSn Rengel Tahun Pelajaran 2014/2015 . Jurnal BASTRA. Volume (2), Nomor 2, hlm 127-138.

Salwen, M. B., Garrison, B., Driscoll, P. D. (2005). Online news and the public. London: Routledge.

Santosa, R. (2014). Metode Penelitian Kualitatif Kebahasaan. Surakarta: Universitas Sebelas Maret Press.

Sugiyono. (2009). Metode Penelitian Kualitatif Kuantitatif dan R&D. Bandung: Alfabeta.

Sumadiria, H. (2005). Jurnalistik Indonesia, Menulis Berita dan Feature, Panduan Praktis Jurnalis Profesional. Bandung: Remaja Rosdakarya.

Tarmini, W. (2012). Buku Ajar Sintaksis Bahasa Indonesia. Bandar Lampung: Universitas Lampung.

Tim Penyusun. Kamus Besar Bahasa Indonesia (KBBI) edisi V. Melalui Daring (http://kbbi.web.id/, diakses pada 9 April 2020).

Widjono. (2008). Bahasa Indonesia. Jakarta: Grasindo.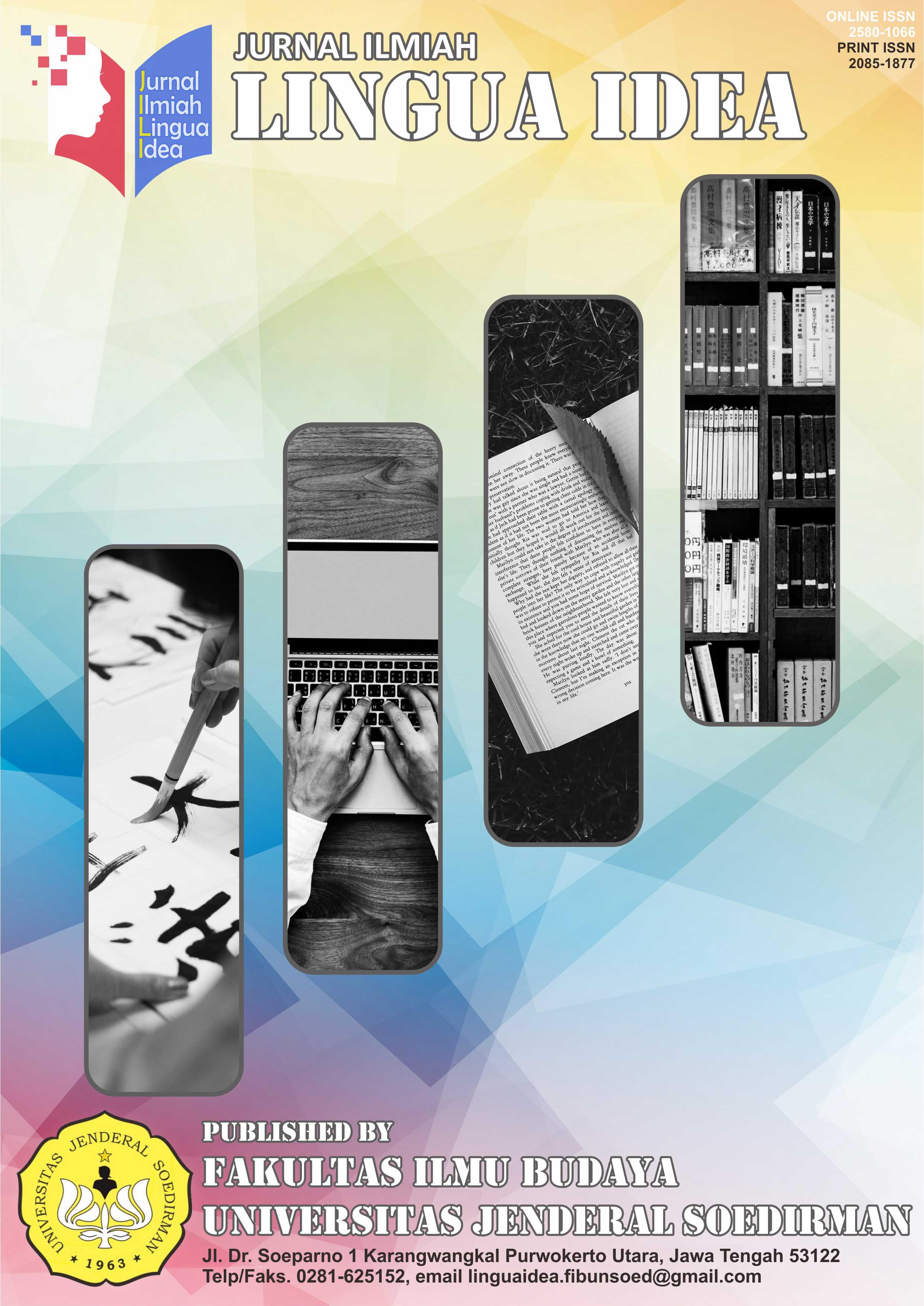 This work is licensed under a Creative Commons Attribution-ShareAlike 4.0 International License.
By submitting the manuscript, the author(s) agreed to these following terms:
(1) The copyright of received articles shall be assigned to Jurnal Ilmiah Lingua Idea as the publisher of the journal. The intended copyright includes the right to publish articles in various forms (including reprint). Jurnal Ilmiah Lingua Idea maintain the publishing rights to the published articles.
(2) Author(s) are permitted to disseminate published articles by sharing the link/DOI of the article at Jurnal Ilmiah Lingua Idea. Author(s) are allowed to use their articles for any legal purposes deemed necessary without written permission from Jurnal Ilmiah Lingua Idea with an acknowledgement of initial publication to this journal.
(3) Authors should sign a copyright transfer agreement when they have approved the final proofs sent by Jurnal Ilmiah Lingua Idea prior to the publication.
(4) User/public use of this website will be licensed to Creative Commons Attribution 4.0 International License.