Pengembangan Buletin Kampus Bermuatan Nilai Kebhinekaan Pancasila untuk Menangkal Radikalisme pada Mahasiswa STKIP Darussalam Cilacap
Abstract
Bangsa Indonesia merupakan masyarakat majemuk yang terdiri dari berbagai macam etnis, budaya, dan agama. Para pendiri bangsa Indonesia menyatukan kebhinekaan tersebut melalui dasar negara Pancasila. Fenomena yang terjadi sekarang, kebhinekaan tersingkir oleh kelompok sosial yang lebih dominan dengan memaksakan pola yang berkarakteristik penyeragaman dengan alasan persatuan. Akumulasi dari hal tersebut, maka terjadi lunturnya pemahaman konsep nilai kebhinekaan Pancasila pada generasi muda. Penelitian ini bertujuan (1) Mendeskripsikan pengetahuan mahasiswa STKIP Darussalam Cilacap tentang konsep Nilai kebhinekaan Pancasila, (2) Mengetahui kebutuhan mahasiswa terhadap buletin kampus yang bermuatan nilai kebhinekaan Pancasila, (3) Menyusun buletin kampus sesuai kebutuhan mahasiswa, dan (4) Mendeskripsikan efektivitas buletin kampus dalam menangkal radikalisme. Metode penelitian menggunakan research and development (R&D) yang dilakukan dengan sepuluh tahap. Hasil penelitian menunjukan (1) 45% mahasiswa belum mengetahui konsep Kebhinekaan Pancasila yang tepat, (2) Mahasiswa membutuhkan buletin kampus yang dilengkapi kolom suara mahasiswa, (3) Penelitian berhasil mengembangkan buletin kampus dengan nama "WOLES" dan (4) Buletin kampus terbukti mampu menangkal radikalisme yang berasal dari dalam dan luar kampus. Pengembangan buletin kampus "WOLES" menjadi sinergi yang positif antara keterampilan mengolah kata dan rasa bagi mahasiswa.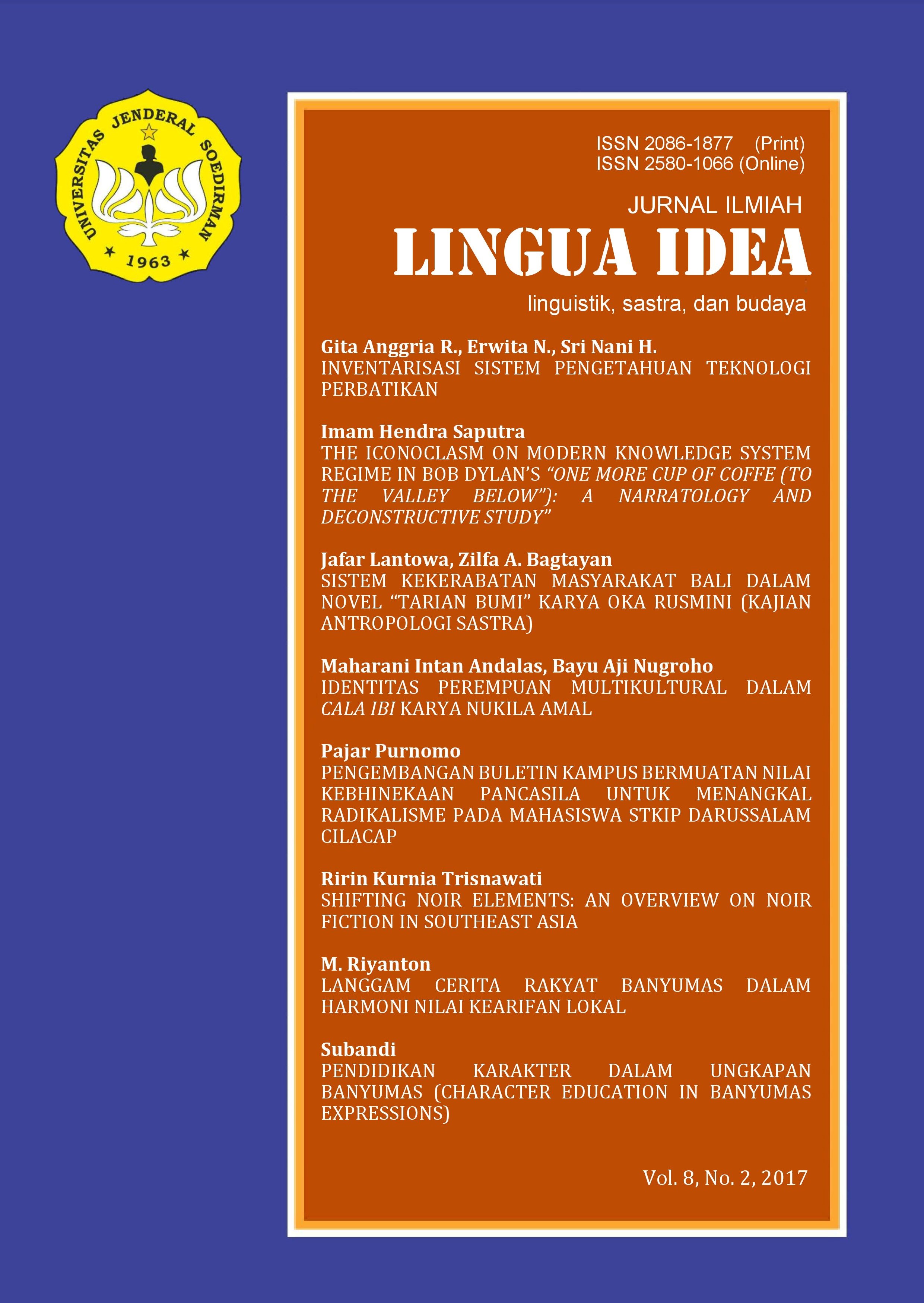 How to Cite
PURNOMO, Pajar. Pengembangan Buletin Kampus Bermuatan Nilai Kebhinekaan Pancasila untuk Menangkal Radikalisme pada Mahasiswa STKIP Darussalam Cilacap.
Jurnal Lingua Idea
, [S.l.], v. 8, n. 2, p. 60-70, nov. 2017. ISSN 2580-1066. Available at: <
http://jos.unsoed.ac.id/index.php/jli/article/view/248
>. Date accessed: 10 july 2020.
Authors who publish with this journal agree to the following terms:
(1) The authors submitting a manuscript do so on the understanding that if accepted for publication, copyright of the article shall be assigned to Jurnal Ilmiah Lingua Idea and Faculty of Humanities, Universitas Jenderal Soedirman as publisher of the journal.
(2) Authors are able to enter into separate, additional contractual arrangements for the non-exclusive distribution of the journal's published version of the work (e.g., post it to an institutional repository or publish it in a book), with an acknowledgment of its initial publication in this journal.
(3) Authors should sign a copyright transfer agreement when they have approved the final proofs sent by Jurnal Ilmiah Lingua Idea prior to the publication.