NILAI KEARIFAN DALAM BABAD BANYUMAS
Kuntarto Kuntarto

Universitas Jenderal Soedirman, Indonesia

Rindha Widyaningsih

Universitas Jenderal Soedirman, Indonesia

Muhamad Riza Chamadi

Universitas Jenderal Soedirman, Indonesia
Abstract
Banyumas chronicle has an essential role as a medium of cultural preservation, philosophical meaning, and value from the ancestors to the next generation. This study aims to find religious, social values in the Banyumas chronicle. Banyumas chronicle used as primary data is the Wirjaatmadja Banyumas chronicle version. The data was strengthened by literature studies and interviews with cultural figures from Banyumas, who were concerned about local wisdom studies.  Analysis of values by using the reflection of the character, meaning of occurrence, and occasion in the chronicle. Religious and social values obtained include the teachings of gratitude, religious values, the value of helping, the value of unity, the value of deliberation to reach consensus, the value of justice and general welfare, the value of peace and non-violence, and the value of family and harmony.
References
Adisarwono. (1985). Riwayat Banyumas. Sala: Tiga Serangkai.

Herusatoto, B. (2008). Banyumas Sejarah Budaya, Bahasa, Watak. Yogyakarta: LkiS.

Kastolani, & Yusof, A. (2016). Relasi Islam Dan Budaya Lokal. Kontemplasi, 04(01), 66.

Kusumah, S. D. (2013). Kajian Kampung-kampung Adat Sebagai Penyangga Tradisi dan Kearifan Lokal di Jawa Barat. In Kearifan Lokal dan Lingkungan (pp. 47–60). Jakarta: PT.Gading Inti Prima dan Pusat Penelitian dan Pengembangan Kebudayaan, Kementrian Pendidikan dan Kebudayaan RI.

Nasucha, Y. (2000). Sadranan: Adat Budaya Masyarakat Jawa. Icdetah Journal, 1(20), 220.

Priyadi, S. (2006). Babad Banyumas dan Versi-Versinya. Bahasa Dan Seni, 1(Februari), 75–103.

Priyadi, S. (2013). Sejarah Mentalitas Banyumas. Yogyakarta: Ombak.

Priyadi, S. (2019). Babad Banyumas Versi Wirjaatmadjan dan Teks-Teks Transformasinya. JSSH (Jurnal Sains Sosial Dan Humaniora), 2(2), 237. https://doi.org/10.30595/jssh.v2i2.3031

Teeuw, A. (1984). Sastra dan Ilmu Sastra: Pengantar Teori Sastra. Jakarta: Pustaka Jaya.

Widyaningsih, R. (2014). Bahasa Ngapak dan Mentalitas Orang Banyumas : Tinjauan dari Perspektif Filsafat Bahasa Hans-Georg Gadamer. Jurnal Ultiama Humaniora, II(2), 186–200.

Wirjaatmadja, R. A. (1898). Babad Banjoemas. Purwokerto: Electrische Drukkerij TAN Poerbolinggo.

Yunus, A., Ks, S. D., Mintosih, S., Soeloso, & Soimun. (1995). Kesenian Dalang Jemblung Sebagai Sarana Penyebaran Nilai Budaya. Jakarta: Departemen Pendidikan dan Kebudayaan Direktorat Sejarah dan Nilai Tradisional.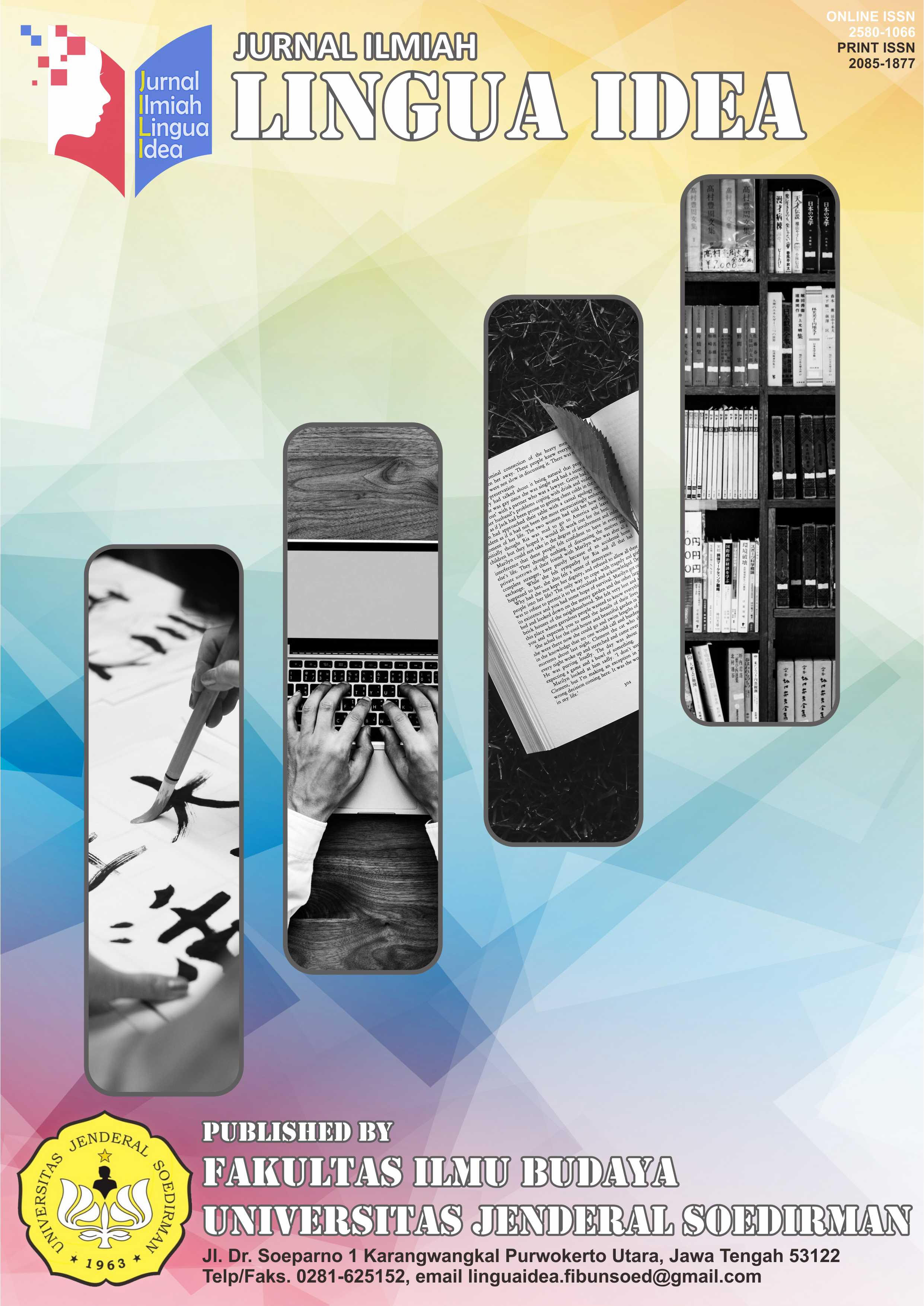 This work is licensed under a Creative Commons Attribution-ShareAlike 4.0 International License.
Authors who publish with this journal agree to the following terms:
(1) The authors submitting a manuscript do so on the understanding that if accepted for publication, copyright of the article shall be assigned to Jurnal Ilmiah Lingua Idea and Faculty of Humanities, Universitas Jenderal Soedirman as publisher of the journal.
(2) Authors are able to enter into separate, additional contractual arrangements for the non-exclusive distribution of the journal's published version of the work (e.g., post it to an institutional repository or publish it in a book), with an acknowledgment of its initial publication in this journal.
(3) Authors should sign a copyright transfer agreement when they have approved the final proofs sent by Jurnal Ilmiah Lingua Idea prior to the publication.