RELIGIOUS PROPAGANDA AS HEGEMONY STRATEGY DEPICTED IN AGORA (2009)
Purwoko Budhi Setiaji

Unsoed

Afrizal Zein

Ali Naqi

Dominika Jenetaugusta Jalatirani
Abstract
This paper entitled "Religious Propaganda as Hegemony Strategy Depicted in Agora (2009)" aims to find out the hegemony occurred in Agora movie that is reflected through religious propaganda. In conducting the research, the researcher uses the theory of hegemony by Antonio Gramsci. The data collection was based on the dialogue of the movie, which then supported by books, journals, and articles depicting the hegemony and the social setting of the movie. In conducting the research, the researchers found that the hegemony depicted in the Agora movie are reflected in the religious propaganda in the form of condemnation towards other religion and the preaching of the Christianity itself. 
References
Amenábar, Alejandro. (2009). Agora, Mod Prodduciones. Spain. 127 Minutes.


Soueif, Ahdaf. (2015). Ancient Egypt Faith After the Pharaohs. https://www.theguardian.com/art anddes ign/2015/oct/30/ancient- egypt-faith-after-the-pharaohs. Accessed on Monday, June 18 2018.

Robinson, B.A. (2007). http://www.religioustolerance.org /chr_hise.htm. Accessed on Tuesday, June 19 2018

Max,Dashu.(2000).https://www.suppress edhistories.net/secrethistory/hypa tia.html. Accessed on Sunday, June 17 2018

Kristensen, Troels M. (2009). Religious Conflict in Late Antique Alexandria: Christians Responses to "Pagan" Statues in the Fourth and Fifth Centuries CE. Aarhus: Aarhus University Press

Loon, Hans van. (2009). The Dyophysite Christology of Cyril of Alexandria. Leiden and Boston: Koninklije Brill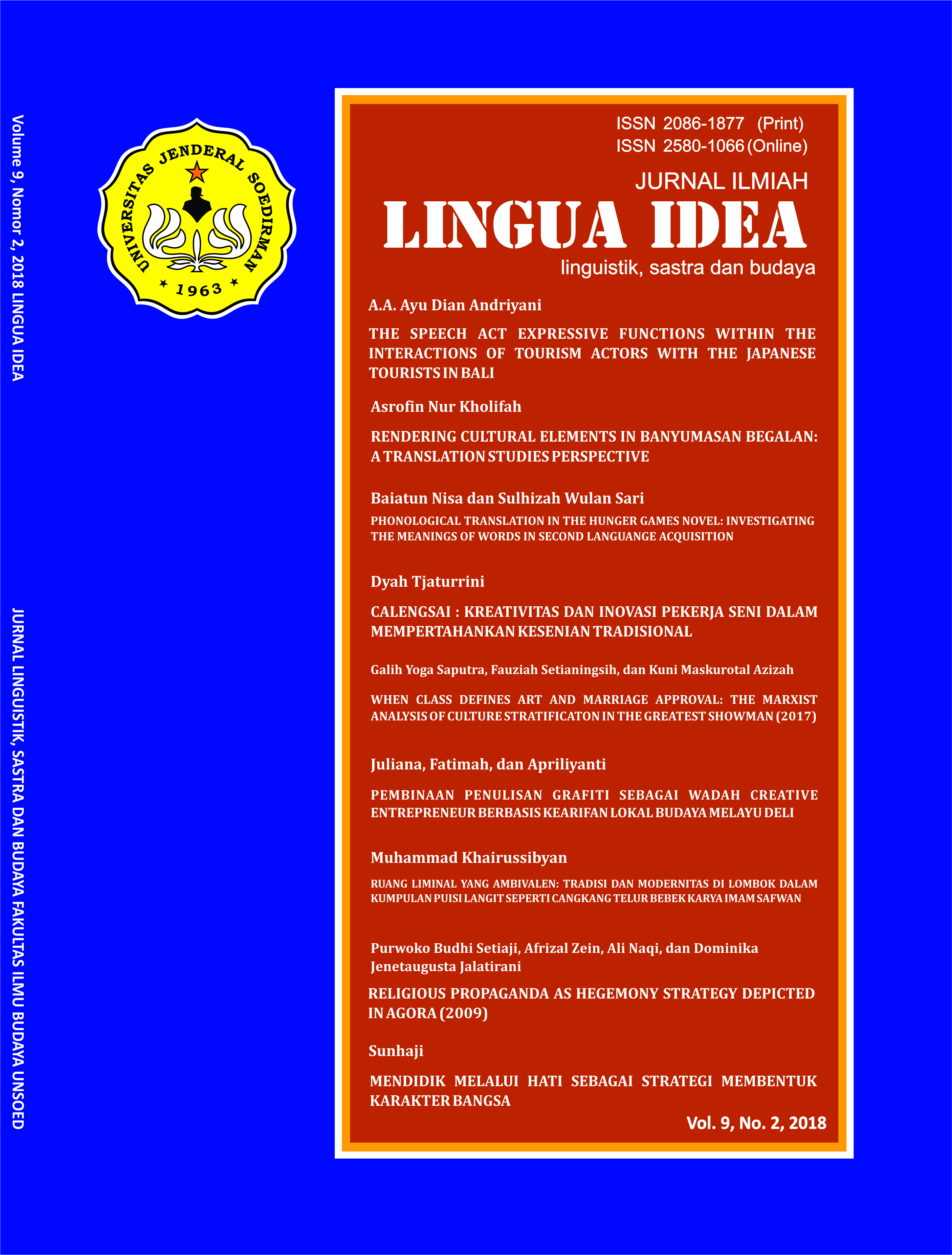 How to Cite
SETIAJI, Purwoko Budhi et al. RELIGIOUS PROPAGANDA AS HEGEMONY STRATEGY DEPICTED IN AGORA (2009).
Jurnal Lingua Idea
, [S.l.], v. 9, n. 2, p. 157-164, oct. 2018. ISSN 2580-1066. Available at: <
http://jos.unsoed.ac.id/index.php/jli/article/view/1249
>. Date accessed: 11 july 2020.
Authors who publish with this journal agree to the following terms:
(1) The authors submitting a manuscript do so on the understanding that if accepted for publication, copyright of the article shall be assigned to Jurnal Ilmiah Lingua Idea and Faculty of Humanities, Universitas Jenderal Soedirman as publisher of the journal.
(2) Authors are able to enter into separate, additional contractual arrangements for the non-exclusive distribution of the journal's published version of the work (e.g., post it to an institutional repository or publish it in a book), with an acknowledgment of its initial publication in this journal.
(3) Authors should sign a copyright transfer agreement when they have approved the final proofs sent by Jurnal Ilmiah Lingua Idea prior to the publication.