RUANG LIMINAL YANG AMBIVALEN: TRADISI DAN MODERNITAS DI LOMBOK DALAM KUMPULAN PUISI LANGIT SEPERTI CANGKANG TELUR BEBEK KARYA IMAM SAFWAN
Muhammad Khairussibyan

Universitas Mataram

Nila Mega Marahayu

Fakultas Ilmu Budaya Univ. Jenderal Soedirman
Abstract
This research tried to reveal how the dynamics of contradiction between tradition and modernity in Lombok and how Lombok's poet Imam Safwan, through a collection of poems of Langit Seperti Cangkang Telur Bebek (LSCTB) addressed the issue of tradition and modernity. The purpose of this study is to reveal the forms of conflict between modernity and tradition in Lombok dan view the poet's attitude toward the conflict. The theory and analysis method of the binary opposition of Yuri Lotman's semiotic were used to dismantle the structure and ideology of Imam Safwan's poems. This study found that the problems of tradition and modernity in Lombok was found in the poems of Imam Safwan. Coping with this problem, Imam Safwan's poems show ambivalence that the evaluation of two semiosphere (tradition and modernity) was conducted in turn. In a poem, Imam evaluated tradition from the point of view of modernity but in other poetry, Imam evaluated modernity from the point of view of tradition. This ambivalent attitude shows that Imam occupies the border of the semiosphere or the liminal space ini which tradition and modernity seek to be negotiated.
References
Faruk. (2001). Beyond Imagination. Yogyakarta: Gama Media.
Lotman, Yur M. (1977). The Structure of The Artistic Text. Michigan: University of Michigan.
---------. (1990). Universe of The Mind: A Semiotic Theory of Culture. London: I. B. Tauris & Co. Ltd.
Maier, H. (1982). The Failure of A Hero. An Analysis of Pramudya Ananta Tur's Short Story Sunat. In: Bijdragen tot de Taal-, Land- en Volkenkunde 138 (1982), no: 2/3, Leiden, 317—345.
Safwan, Imam. (2014). Langit Seperti Cangkang Telur Bebek. Mataram: Komunitas Akar Pohon.
Sarup, Madan. (2002). Identity, Culture and The Postmodern World. Edinburgh: Edinburgh University Press.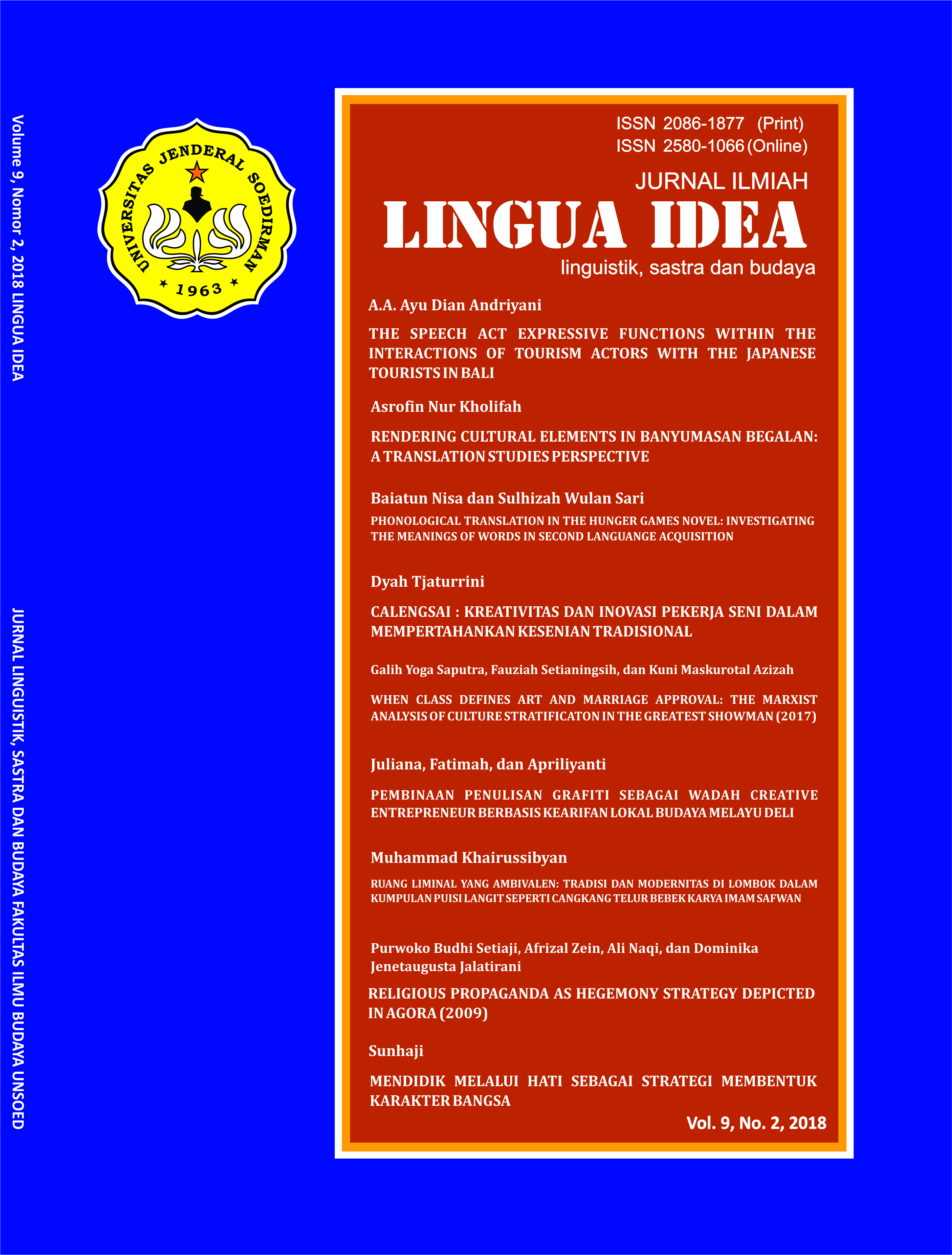 How to Cite
KHAIRUSSIBYAN, Muhammad; MEGA MARAHAYU, Nila. RUANG LIMINAL YANG AMBIVALEN: TRADISI DAN MODERNITAS DI LOMBOK DALAM KUMPULAN PUISI LANGIT SEPERTI CANGKANG TELUR BEBEK KARYA IMAM SAFWAN.
Jurnal Ilmiah Lingua Idea
, [S.l.], v. 9, n. 2, p. 144-156, oct. 2018. ISSN 2580-1066. Available at: <
http://jos.unsoed.ac.id/index.php/jli/article/view/1170
>. Date accessed: 18 aug. 2019.
Authors who publish with this journal agree to the following terms:
(1) Authors retain copyright and grant the journal right of first publication with the work simultaneously licensed under a Creative Commons Attribution License that allows others to share the work with an acknowledgment of the work's authorship and initial publication in this journal.
(2) Authors are able to enter into separate, additional contractual arrangements for the non-exclusive distribution of the journal's published version of the work (e.g., post it to an institutional repository or publish it in a book), with an acknowledgment of its initial publication in this journal.
(3) Authors should sign a copyright transfer agreement when they have approved the final proofs sent by Jurnal Ilmiah Lingua Idea prior to the publication.