MENDIDIK MELALUI HATI SEBAGAI STRATEGI MEMBENTUK KARAKTER BANGSA
Sunhaji Sunhaji

IAIN Purwokerto
Abstract
This paper discusses the concepts of character education. The character of the nation is one key for the nation to develop. The character of the nation is highly determined by its efforts to continuously improve the character education processes. No character education may be well implanted to the men's behavior when the heart of the nation is unhealthy. The main key education success of the nation is a healthy heart. The heart should be healthy that good education may be easily implanted and united into an individual who is reflectively and continuously demanded to do the good things. Thus, whatever the education is named by either character education, value education, multicultural education, religious education, or others intended to build the character and behavior of the educational participants may uneasily be realized if not firstly initiated by educating the heart.
References
Dikti. (2010). Kerangka Acuan Pendidikan Karakter. Jakarta : Kementerian Pendidikan Nasional
Doni Koesoema. (2010). Pendidikan Karakter Strategi Mendidik Anak. Jakarta : Gramedia
Furqon Hidayatulloh. (2010). Guru Sejati : Membangun Insan Berkarakter kuat dan Cerdas. Surakarta : Yuma Pustaka
--------------------------- (2010). Pendidikan Karakter : Membangun Peradaban Bangsa. Surakarta : UNS Press
Haidar Putra Dauly. (2004). Dasar-Dasar Ilmu Pendidikan Dalam Sistem Pendidikan nasional di Indonesia. Jakarta: Prenada Media.
Masnur Muslich. (2011). Pendidikan Karakter Menjawab Tantangan Multidimensional. Jakarta : Bumi Aksara.
M. Athiyah Al-Abrasy. (1993). Dasar-Dasar Pokok Pendidikan Islam, Jakarta, Bulan Bintang.
Pusat Kurikulum. (2011). Pedoman Pelaksanaan pendidikan Karakter. Jakarta : Kementerian Pendidikan Nasional
---------------------. (2010). Pengembangan Pendidikan Budaya dan Karakter Bangsa. Jakarta : Kementerian Pendidikan Nasional
Rencana Strategis Departemen pendidikan Nasional Tahun 2010 – 2014
Samsi Haryanto. (2010). Peran Pendidik Dalam Membentuk Manusia Yang Berkarakter dan Berakhlak Mulia. Makalah. Madiun : IKIP PGRI Madiun
Suyanto dan Abbas. (2001). Wajah dan Dinamika Pendidikan Anak Bangsa. Yogyakarta: Adi Cita.
Syaih Khalid Sayyid Rusyah, Nikmatnya Beribadah, Terj. Kursin Karyadi,LC. Jakarta: Al-Kautsar, 2004.
Undang – Undang Sistem Pendidikan Nasional Nomor 20 Tahun 2003
Zamroni. (2011). Strategi dan Model Imlementasi Pendidikan Karakter Di sekolah. Yogyakarta : UNY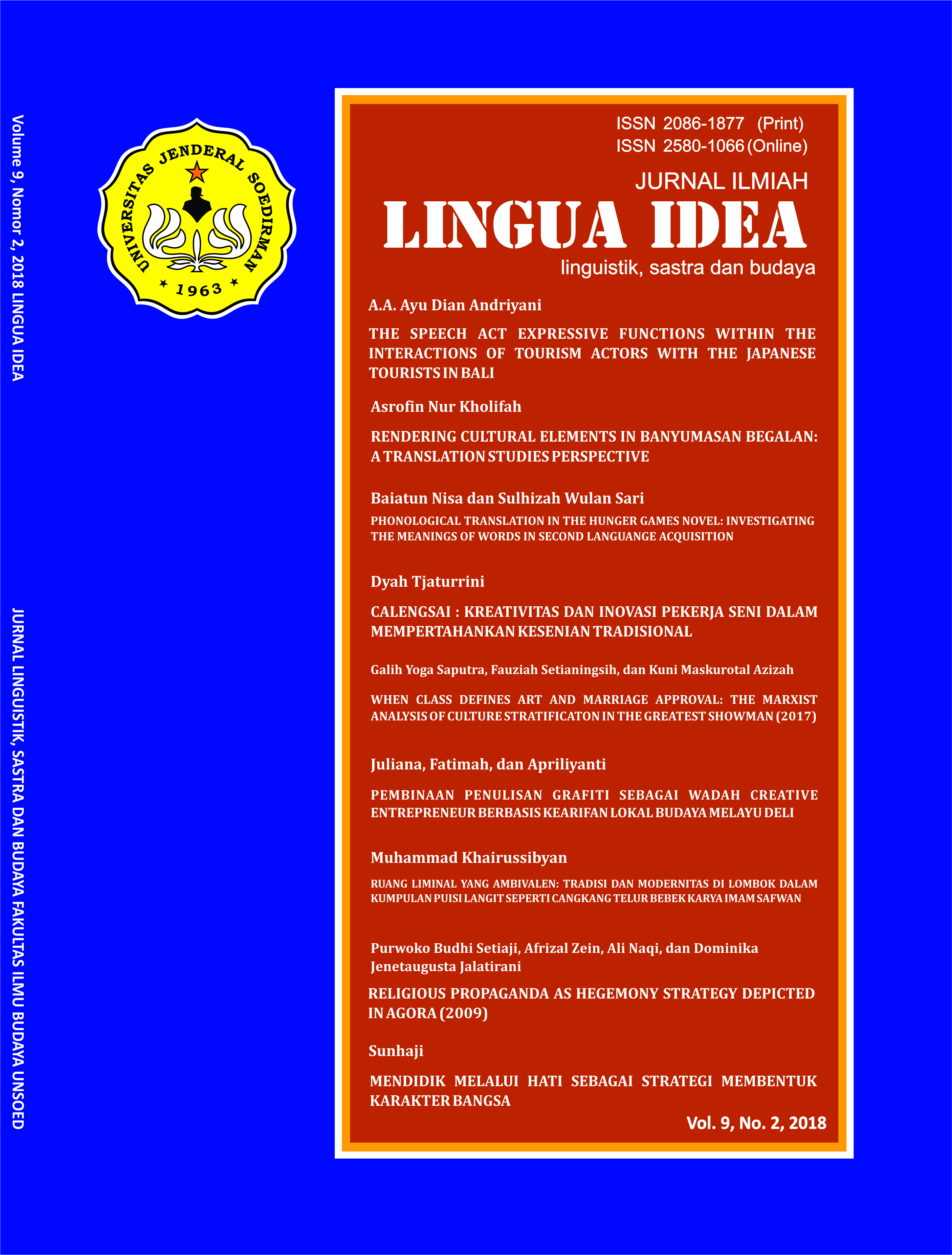 Authors who publish with this journal agree to the following terms:
(1) The authors submitting a manuscript do so on the understanding that if accepted for publication, copyright of the article shall be assigned to Jurnal Ilmiah Lingua Idea and Faculty of Humanities, Universitas Jenderal Soedirman as publisher of the journal.
(2) Authors are able to enter into separate, additional contractual arrangements for the non-exclusive distribution of the journal's published version of the work (e.g., post it to an institutional repository or publish it in a book), with an acknowledgment of its initial publication in this journal.
(3) Authors should sign a copyright transfer agreement when they have approved the final proofs sent by Jurnal Ilmiah Lingua Idea prior to the publication.