PEMBINAAN PENULISAN GRAFITI SEBAGAI WADAH CREATIVE ENTREPRENEUR BERBASIS KEARIFAN LOKAL BUDAYA MELAYU DELI
Juliana Juliana

Universitas Potensi Utama

Fatimah Fatimah

Universitas Potensi Utama

Apriliyanti Apriliyanti

Universitas Potensi Utama
Abstract
In reality graffiti writings sometimes create some problems to the beauty of the environment. One of the problems are the creation of graffiti writings by Me&an art community on the streetwalls that affect the cleanliness of urban. Therefore, it is needed for a media as a place for the Me&an art community to express their creativity. The objective of this study is to give solution for the problem by  providing a development media of graffiti writings for Me&an art community to become creative entrepreneur based on local wisdom of Malay Deli. This study focuses on developing graffiti writings by using and applying local wisdom values of Malay Deli. The results of this study are the sourvenirs model and the development place of graffiti writing as a media to express creativity based on local wisdom of Malay Deli. Briefly, the model of graffiti writing based on Malay Deli as a development media for Me&an art community to become creative industry entrepreneurs based the local wisdom.
References
Francis, Wahono. (2005). Pangan, Kearifan Lokal dan Keanekaragaman Hayati. Yogyakarta: Cindelaras Pustaka Rakyat Cerdas.
Juliana., Fatimah., Yanti, Aprili., (2018, 18-19 April). Empowering Medan Art Community Through Developing Graffity Writing as creative industry model (The Local Wisdom of Malay Deli). Paper presented at The 1st Annual International Conference on Language and Literature, KnE Social Sciences in Madani Hotel, Medan. Retrieved from : http://aicll.sastra.uisu.ac.id/index.php/aicll/article/view/28/28
Keraf, A. Sonny. (2002). Etika Lingkungan. Jakarta: Penerbit Buku Kompas
Sugiyono. (2002). Metode Penelitian Administrasi.Bandung : CV Alfabeta.
Sumarsono, dan Paina Partana. 2002. Sosiolinguistik. Yogyakarta: Sabda dan Pustaka Pelajar.
Sumaryono E., 1995. Hermeneutik :Sebuah metode filsafat, Yogyakarta: Kanisius
Susanto, Dikke. (2002). Diksi Rupa. Yogyakarta: Kanisius
Susanto, Dikke. (2003). Membongkar Seni Rupa. Yogyakarta: Jendela
Wicandra, obed bima dan sophia novita angkadjaja. Efek Ekologi Visual dan Sosio Kultural Melalui Graffiti Artistik di Surabaya. Surabaya: Universitas Kristen Petra Surabaya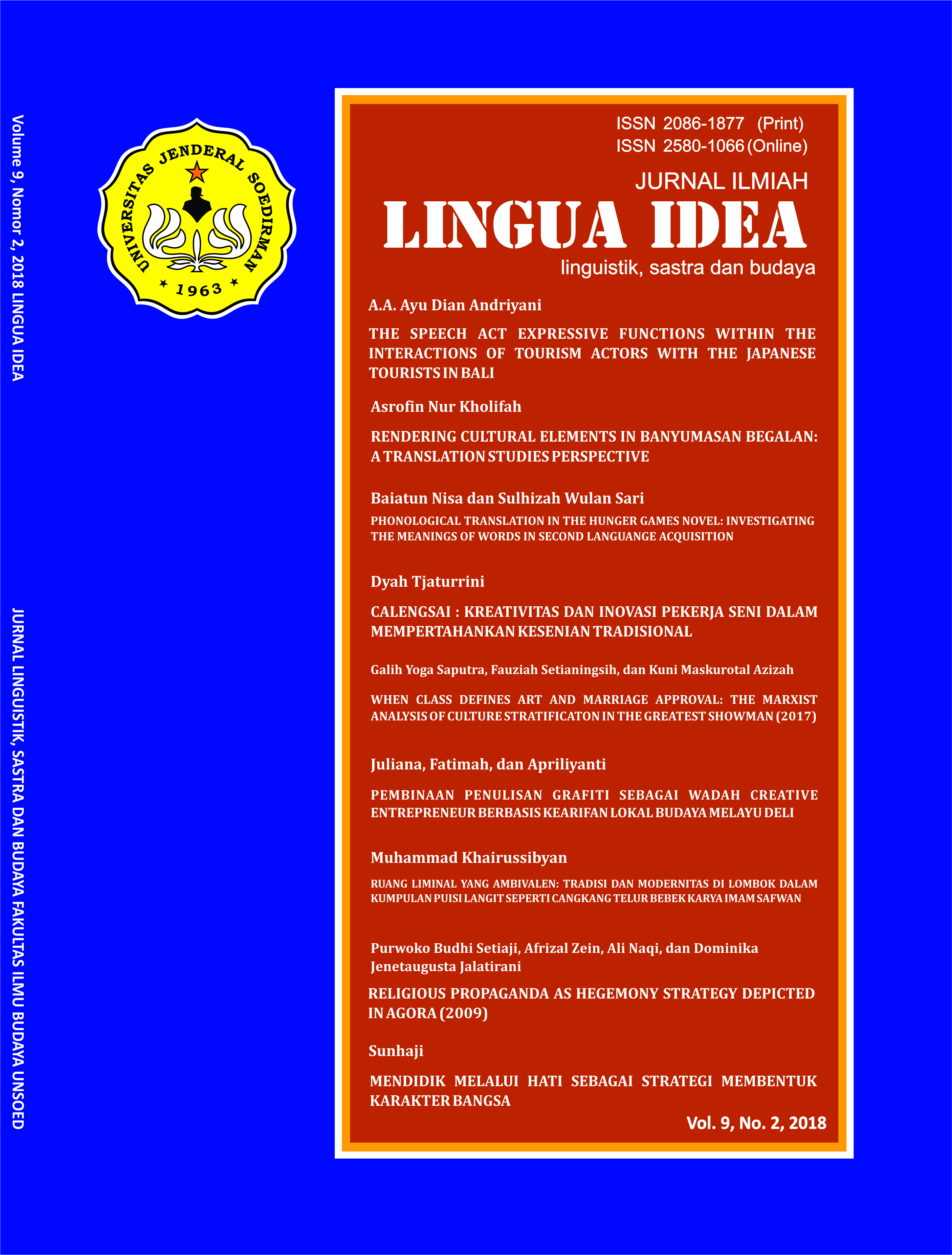 How to Cite
JULIANA, Juliana; FATIMAH, Fatimah; APRILIYANTI, Apriliyanti. PEMBINAAN PENULISAN GRAFITI SEBAGAI WADAH CREATIVE ENTREPRENEUR BERBASIS KEARIFAN LOKAL BUDAYA MELAYU DELI.
Jurnal Lingua Idea
, [S.l.], v. 9, n. 2, p. 129-143, oct. 2018. ISSN 2580-1066. Available at: <
http://jos.unsoed.ac.id/index.php/jli/article/view/1135
>. Date accessed: 14 july 2020.
Authors who publish with this journal agree to the following terms:
(1) The authors submitting a manuscript do so on the understanding that if accepted for publication, copyright of the article shall be assigned to Jurnal Ilmiah Lingua Idea and Faculty of Humanities, Universitas Jenderal Soedirman as publisher of the journal.
(2) Authors are able to enter into separate, additional contractual arrangements for the non-exclusive distribution of the journal's published version of the work (e.g., post it to an institutional repository or publish it in a book), with an acknowledgment of its initial publication in this journal.
(3) Authors should sign a copyright transfer agreement when they have approved the final proofs sent by Jurnal Ilmiah Lingua Idea prior to the publication.