The Influence of China in Environmental Security and Peace in Mongolia
Muhammad Fachrie

Universitas Gadjah Mada
Abstract
Abstrak
Penelitian ini mengeksplanasi bagamana Cina mempengaruhi keamanan lingkungan dan perdamaian di Mongolia. Di Mongolia, Cina melibatkan diri di beberapa sektor seperti ekosistem, energi, populasi, makanan dan ekonomi. Aktivitas-aktivitas ini menyebabkan  kerusakan lingkungan seperti penggurunan, kepunahan hewan liar, deforestasi,  kerusakan lingkungan yang disebabkan  pembangkit listrik tenaga air, kesehatan makanan, dan polusi lingkungan yang disebabkan pertambangan. Peter Hough, seorang ahli keamanan lingkungan, dalam bukunya yang berjudul "Memahami Keamanan Global, Edisi Kedua", menjelaskan bahw permasalahan-permasalahan lingkungan bisa menjadi sebuah keamanan manusia. Ini berarti bahwa keamanan lingkungan adalah salah satu dari beberapa dimensi-dimensi dari keamanan manusia. Kerusakan lingkungan tidak hanya menjadi permasalahan lingkungan saja, akan tetapi ini juga menjadi permasalahan keamanan. Untuk mengeksplanasi hal tersebut, konsep dimensi keamanan lingkungan dan pendekatan konflik lingkungan digunakan, karena fenomena keamanan ini berfokus pada manusia dan bukan negara.
Kata Kunci: Keamanan Tradisional, Mongolia, China, Lingkungan, perdamaian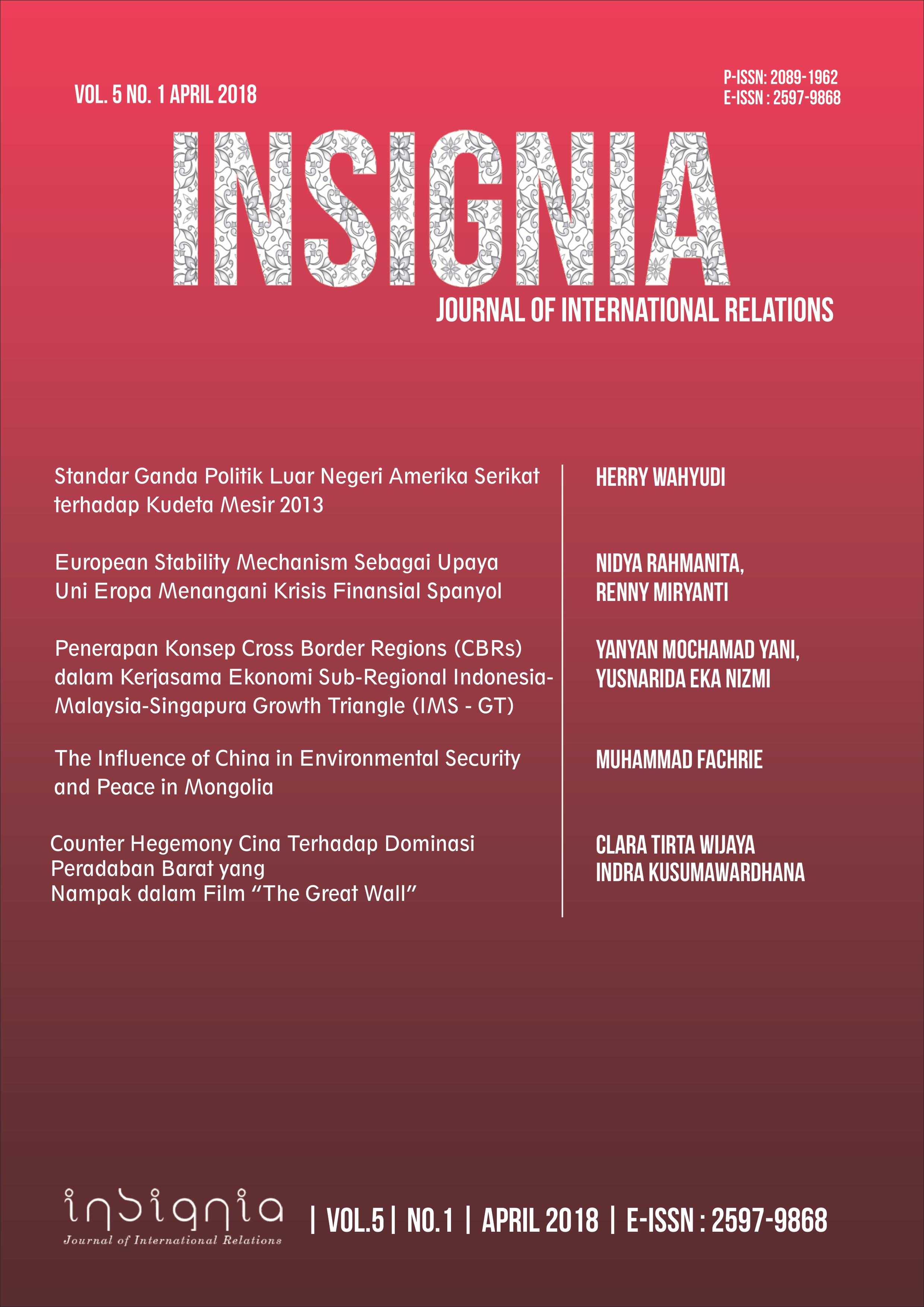 How to Cite
FACHRIE, Muhammad. The Influence of China in Environmental Security and Peace in Mongolia.
Insignia Journal of International Relations
, [S.l.], v. 5, n. 1, p. 60-66, may 2018. ISSN 2597-9868. Available at: <
http://jos.unsoed.ac.id/index.php/insignia/article/view/597
>. Date accessed: 16 oct. 2018.