Aktivitas Enzimatik Isolat Jamur Auricularia sp., Trametes sp., dan Pholiota sp. pada Pewarna Remazol Brilliant Blue R dengan Variasi pH
Agung Wiriat Putra Pratama Hadi

Mahasiswa

Ratna Stia Dewi

Universitas Jenderal Soedirman

Ajeng Arum Sari
Abstract
Limbah dari industri tekstil berupa zat warna sintetik seperti Remazol Brilliant Blue R (RBBR) dapat menimbulkan pencemaran lingkungan akibat sifat zat warna RBBR yang toksik dan sulit terurai. Isolat Auricularia sp.,Trametes sp., dan Pholiota sp. memiliki enzim yang mampu mendekolorisasi komponen pewarna RBBR. Aktivitas enzim lignolitik seperti lakase yang dimiliki jamur mampu mengoksidasi pewarna tekstil. Aktivitas enzim lakase dipengaruhi oleh jenis jamur yang digunakan, pH, suhu, dan waktu inkubasi. Penelitian bertujuan untuk mengetahui aktivitas enzim lakase dari isolat jamur Auricularia sp., Trametes sp., dan Pholiota sp. dalam pewarna RBBR pada nilai pH berbeda, serta mengetahui isolat pada pH optimum yang memiliki aktivitas enzim lakase dalam pewarna RBBR. Penelitian menggunakan Rancangan Acak Lengkap (RAL). Variabel bebas yang diamati adalah jenis isolat dan kondisi pH (4, 8, dan 12), sedangkan variabel tergantungnya adalah kemampuan isolat dalam menghasilkan enzim. Parameter utama yang diamati adalah aktivitas enzim Lakase. Parameter pendukung terdiri atas nilai bobot kering miselium. Hasil menunjukan ketiga isolat memiliki aktivitas enzim lakase dalam RBBR dengan pH berbeda. Aktivitas tertinggi terdapat pada Trametes sp. dalam RBBR dengan pH 4 yaitu sebesar 101,9 U/mL. Aktivitas terendah terdapat pada Aricularia sp. dalam RBBR dengan pH 4 sebesar 48,6 U/mL.
References
Albar, Budiman, 2009. Pengaruh Konsentrasi Substrat, Lama Inkubasi dan pH dalam Proses Isolasi Enzim Xylanase dengan Menggunakan Media Jerami Padi. Skripsi. Teknik Kimia Universitas Diponegoro, Semarang.

Amiruddin, A., Hasri, H. and Sudding, S., 2018. Biodegradasi Zat Warna Acid Orange 7 Menggunakan Enzim Jamur Tiram Putih (Pleurotus Ostreatus). Jurnal Kimia Riset, 3(1): 47-51.

Astina, D., Nugroho, T.T., Linggawati, A., 2017. Penentuan Aktivitas Enzim Laccase Rhus Vernicifera Menggunakan Guaiacol Sebagai Substrat. Jurnal Penelitian Farmasi Indonesia, 5(2): 55-62.

Bertrand, B., Martínez-Morales, F. and Trejo-Hernandez, M.R., 2013. Fungal laccases: induction and production. Revista Mexicana de Ingeniería Química, 12(3): 473-488.

Cummins, G.B. & Hiratsuka, Y., 2003. Illustrated genera of rust fungi. American Phytopathological Society: APS Press.

Dewi, R.S., Kasiamdari, R.S., Purwestri, Y.A., 2018. Bioremediation of Indigosol Blue 04B Batik Effluent by Indigenous Fungal Isolates, Aspergillus spp. Omni-Akuatika, 14(2): 11-20.

Dinatha, Ngurah Mahendra., James Sibarani., I. G. Mahardika. 2013. Degradasi Limbah Tekstil Menggunakan Jamur Lapuk Putih Daedaleopsis eff. Confragosa. Jurnal Bumi Lestari. 1(2): 124–131

Hakala, T., 2007. Characterization of lignin-modifying enzymes of the selective white-rot fungus Physisporinus rivulosus. Thesis. Finlandia: University of Helsinki

Husna, N.R. & Ummas, H., 2017. Pengaruh pH terhadap Degradasi Pewarna Direct Blue menggunakan Jamur Pelapuk Kayu Pleurotus flabellatus. Jurnal Kimia Riset, 2(2): 140-146.

Jarosz-Wilkołazka, A., Kochmańska-Rdest, J., Malarcz̄yk, E., Wardas, W. & Leonowicz, A., 2002. Fungi and their ability to decolourize azo and anthraquinonic dyes. Enzyme and Microbial Technology, 30(4): 566-572.

Madzak, C., Mimmi, M.C., Caminade, E., Brault, A., Baumberger, S., Briozzo, P., Mougin, C. and Jolivalt, C., 2005. Shifting the optimal pH of activity for a laccase from the fungus Trametes versicolor by structure-based mutagenesis. Protein Engineering Design and Selection, 19(2): 77-84.

Mfombep, P.M., Senwo, Z.N. & Isikhuemhen, O.S., 2013. Enzymatic activities and kinetic properties of β-glucosidase from selected white rot fungi. Advances in Biological Chemistry, 3(02): 198-203

Murugesan, K., Nam, I.H., Kim, Y.M., Chang, Y.S., 2007. Decolorization of reactive dyes by a thermostable laccase produced by Ganoderma lucidum in solid state culture. Enzyme and Microbial Technology, 40(7): 1662-1672.

Muslimah, S. & Kuswytasari, N.D., 2013. Potensi Basidiomycota Koleksi Biologi ITS sebagai Agen Biodekolorisasi Zat Warna RBBR. Jurnal sains dan senipomits, 2(1): 235-238.

Ngieng, N.S., Zulkharnain, A., Roslan, H.A., Husaini, A., 2013. Decolourisation of Synthetic Dyes by Endophytic Fungal FloraIsolated from Senduduk Plant (Melastoma malabathricum). ISRN Biotechnology, 3(7):1-7.

Nyanhongo, G.S., Gomes, J., Gübitz, G., Zvauya, R., Read, J.S. and Steiner, W., 2002. Production of laccase by a newly isolated strain of Trametes modesta. Bioresource Technology, 84(3): 259-263.

Osma, J.F., Toca-Herrera, J.L. and Rodríguez-Couto, S., 2010. Transformation pathway of Remazol Brilliant Blue R by immobilised laccase. Bioresource technology, 101(22): 8509-8514.

Pelegrini, R., Peralta-Zamora, P., de Andrade, A.R., Reyes, J. and Duran, N., 1999. Electrochemically assisted photocatalytic degradation of reactive dyes. Applied Catalysis B, Environmental, 22(2): 83-90.

Poedjiadi, Anna. 2012. Dasar-Dasar Biokimia. Jakarta: Universitas Indonesia Press.

Sari, A.A. & Dewi, R.S., 2019. The Study of Basidiomycota and Glomeromycota Biodiversity in Baturraden Botanical Garden, Indonesia. Report Research. Research Grant Programme, NEF.

Sari, A.A., Tachibana, S., & Muryanto., 2012. Correlation of Ligninolytic Enzymes from the Newly-Found Species Trametes versicolor U97 with RBBR Decolorization and DDT Degradation. Water Air Soil Pollution, 223: 5781-5792.

Sulistyaningtyas, A.R. & Suprihadi, A., 2017. Produksi Miselium Jamur Ling Zhi (Ganoderma lucidum) dalam Medium Air Kelapa Tua dan Tauge Extract Broth dengan Metode Kultur Terendam Teragitasi. Bioma, 19(1): 58-81.
Sun, F.H., Li, J., Yuan, Y.X., Yan, Z.Y., Liu, X.F., 2011. Effect of biological pretreatment with Trametes hirsuta yj9 on enzymatic hydrolysis of corn stover. International Biodeterioration & Biodegradation, 65(7): 931-938.

Supriyanto, A.G.U.S., 2009. Manfaat Jamur Pelapuk Putih Phanerochaete Chrysosporium L1 Dan Pleurotus sp. Eb9 Untuk Biobleaching Pulp Kardus Bekas. Skripsi, Institut Pertanian Bogor: Bogor.

Turhan, K., Durukan, I., Ozturkcan, S.A., & Turgut, Z., 2012. Decolorization of Textile Basic Dye in Aqueous Solution by Ozone. Dyes Pigments, 92(3): 897-901.

Wuryanti, W., Pengaruh Penambahan Biotin Pada Media Pertumbuhan Terhadap Produksi Sel Aspergillus niger. Bioma: Berkala Ilmiah Biologi, 10(2): 46-50.

Yang, X.Q., Zhao, X.X., Liu, C.Y., Zheng, Y. and Qian, S.J., 2009. Decolorization of azo, triphenylmethane and anthraquinone dyes by a newly isolated Trametes sp. SQ01 and its laccase. Process Biochemistry, 44(10): 1185-1189.

Yesilada, S.K., Pekin, G., Bermek, H., Arslan-Alaton, I., Orhon, D., Tamerler, C., 2006. Bioremediation of textile azo dyes by Trichophyton rubrum LSK-27. World Journal of Microbiology and Biotechnology, 22(10): 1027-1031.

Zahra. 2017. Studi Dekolorisasi Lindi Hitam dengan Teknik Ramah Lingkungan Menggunakan Jamur Trametes versicolor F200 dan Isolat Enzimnya yang Diimobilisasikan pada Natrium Alginat. Thesis. Depok: Universitas Indonesia.

Zavarzina, A.G., & Zavarzin, A.A., 2006. Laccase and Tyrosinase Activities in Lichens. Microbiology, 75(5): 546-552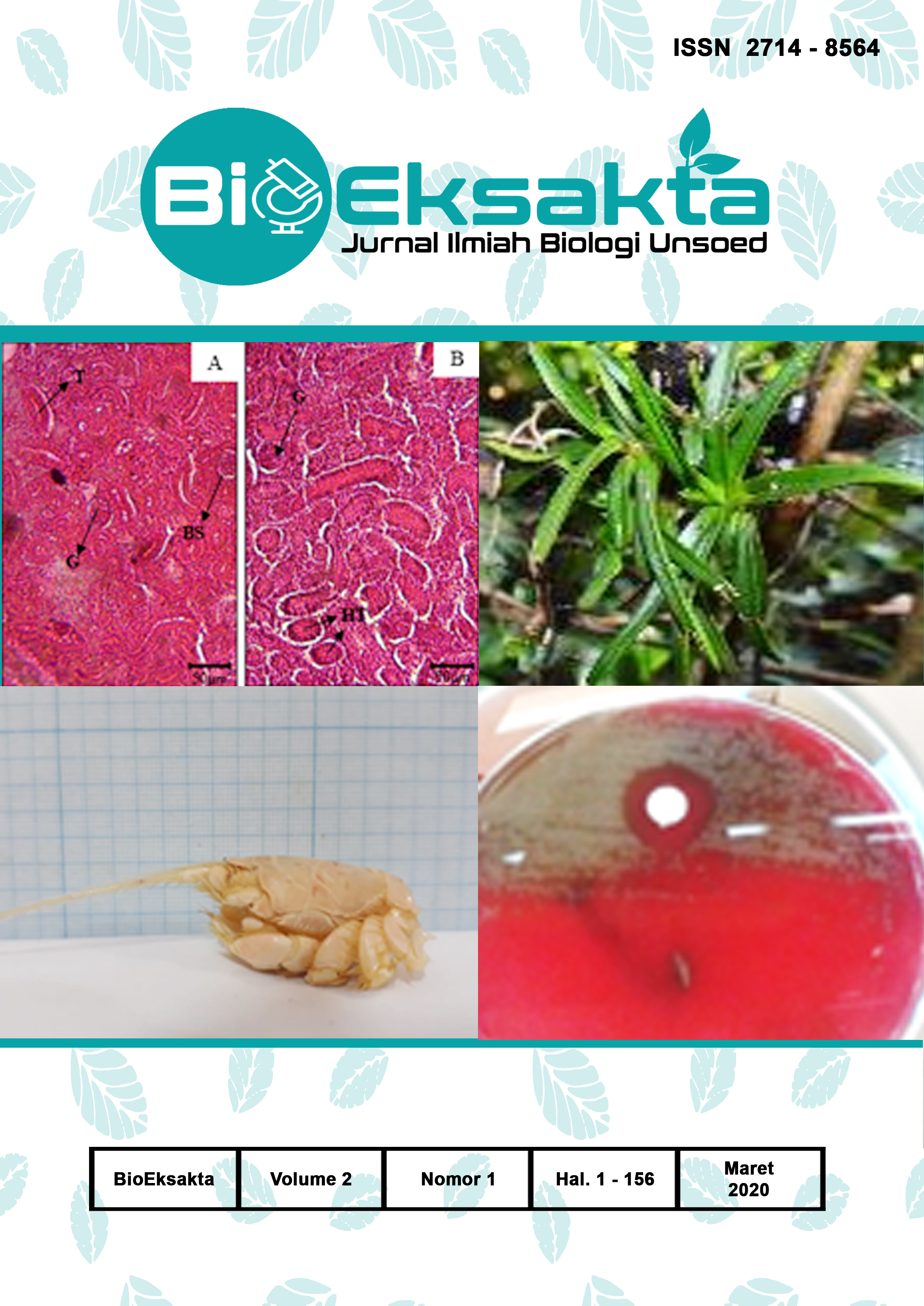 How to Cite
HADI, Agung Wiriat Putra Pratama; DEWI, Ratna Stia; SARI, Ajeng Arum. Aktivitas Enzimatik Isolat Jamur Auricularia sp., Trametes sp., dan Pholiota sp. pada Pewarna Remazol Brilliant Blue R dengan Variasi pH.
BioEksakta : Jurnal Ilmiah Biologi Unsoed
, [S.l.], v. 2, n. 1, p. 67-73, apr. 2020. ISSN 2714-8564. Available at: <
http://jos.unsoed.ac.id/index.php/bioe/article/view/1772
>. Date accessed: 30 may 2023. doi:
https://doi.org/10.20884/1.bioe.2020.2.1.1772
.