Analisa Organoleptik dan Mikrobiologi AMDK dan AMIU yang Dijual Sekitar Kampus UMKU
Yunita Rusidah

Universitas Muhammadiyah Kudus

Lailatul Farikhah

Universitas Muhammadiyah Kudus
Abstract
This study is intended to find the quality of bottled drinking water (AMDK) and drinking water (AMIU) sold around University of Muhammadiyah Kudus, in terms of organoleptic and microbiological parameters in drinking water according to SNI 01-3554-2006 and PMK No. 492 of  2010. The test is carried out using 10 sample of drinking water. They are 7 sample of AMDK (Ades, Airmu, Aqua, Cleo, Crystalin, Le mineral and Vit) and 3 sample of AMIU (Pasuruhan, Prambatan and Purwosari depots). The research consists of organoleptic and  mikrobiologi (TPC, presence of E. coli and total coliform). The results of research shows that the organoleptik of all samples is in normal condition. Whereas, microbiologically, the TPC results before dilution were only Cleo and Ades which were suitable for consumption because they were absent from bacterial contamination. While the TPC results after dilution, testing the difference between E. Coli and Total coliform resulted in 7 samples of bottled drinking water which were safe and feasible as drinking water according to SNI 01-3553-2006 and 3 samples AMIU does not fulfil PMK No. 492/2010, as drinking water requirements.
References
Agustini, S. (2017). Harmonisasi Standar Nasional (SNI) Air Minum Dalam Kemasan Dan Standar Internasional (The Harmonization on the requirement of National Standard (SNI) Bottled Drinking Water Against to International standard. Majalah Teknologi Agro Industri (Tegi), 9(2), 30–39.
Bambang, Andrian G. (2014). Analisis cemaran bakteri coliform dan identifikasi Escherichia coli pada air isi ulang dari depot di Kota Manado. Pharmacon 3.3.
Conant, Jeff, and Pam Fadem. (2021). Panduan Masyarakat untuk Kesehatan Lingkungan. Michosan Center Indonesia.
Departemen Kesehatan RI (2010). Peraturan Menteri Kesehatan RI Persyaratan Kualitas Air Minum. PERMENKES RI/NOMOR492/MENKES/PER/IV/2010.
Departemen Kesehatan Republik Indonesia. (2002). Syarat-Syarat Dan Pengawasan Kualitas Air Minum. PERMENKES NO. 907/MENKES/SK/VII/2002.
Deril, M., and Hendrasarie Novirina. (2014). "Uji Parameter Air Minum Dalam Kemasan (AMDK) di Kota Surabaya." Envirotek: Jurnal Ilmiah Teknik Lingkungan 6.1: 1-6.
Dufour, A.P. (1984). Health Effects Criteria for Fresh Recreational Waters. Cincinnati, Ohio, U.S. Environmental Protection Agency, EPA-600/1-84-004, 33p.
Ernawaningtyas, Endang, Yaya Sulthon Aziz, and Qoirul Adi Styawan. (2020). "Uji Cemaran Mikroba Air Minum Isi Ulang dari Depot Air Minum Di Wilayah Kabupaten Ponorogo. Medfarm: Jurnal Farmasi dan Kesehatan 9.1: 8-12.
Harmita dan Radji M. (2008). Buku Ajar Analisis Hayati, Edisi 3. Penerbit Buku Kedokteran EGC, Jakarta.
Mairizki, Fitri. (2017)."Analisa kualitas air minum isi ulang di sekitar kampus Universitas Islam Riau." Jurnal Katalisator 2.1: 9-19.
Mirza MN. (2014). Hubungan anatara Hygiene Sanitasi dengan Jumlah Coliform Air Minum pada Depot Air Minum Isi Ulang (DAMIU) di Kabupaten Demak tahun 2012. Unnes Journal of Public Health; 3 (2)
Parija, S.C., (2009), Textbook of Microbiology and Immunology, 71-73, Elsevier India Pvt. Ltd., India
Pratiwi, Astri Wulandari. (2014). Kualitas Bakteriologis Air Minum Isi Ulang di Wilayah Kota Bogor.
Rahayu, S. A., & Gumilar, M. M. H. (2017). Uji cemaran air minum masyarakat sekitar margahayu raya bandung dengan identifikasi bakteri Escherichia coli. Indonesian Journal of Pharmaceutical Science and Technology, 4(2), 50-56.
Sekarwati, Novita, Subagiyono Subagiyono, and Hanifah Wulandari.(2016). "Total coliform dalam Air Bersih dan Escherichia coli dalam Air Minum pada Depot Air Minum Isi Ulang." Kes Mas: Jurnal Fakultas Kesehatan Masyarakat 10.2: 49-56.
Subagiyono, Subagiyono, and Hanifah Wulandari. (2016). "Analisis Kandungan Bakteri Total Coliform dalam Air Bersih dan Escherechia Coli dalam Air Minum pada Depot Air Minum Isi Ulang di Wilayah Kerja Puskesmas Kalasan Sleman." Kes Mas: Jurnal Fakultas Kesehatan Masyarakat Universitas Ahmad Daulan 10.2: 1-12.
Sofa, Maya, and Widura Widura.(2010). "Kualitas Bakteriologis Air Minum dalam Kemasan "AC" yang tidak Terdaftar di Bandung." Maranatha Journal of Medicine and Health 1.2: 147816.
Wandrivel, Rido, Netty Suharti, and Yuniar Lestari. (2012). "Kualitas air minum yang diproduksi depot air minum isi ulang di Kecamatan Bungus Padang berdasarkan persyaratan mikrobiologi." JurnalKesehatan Andalas 1.3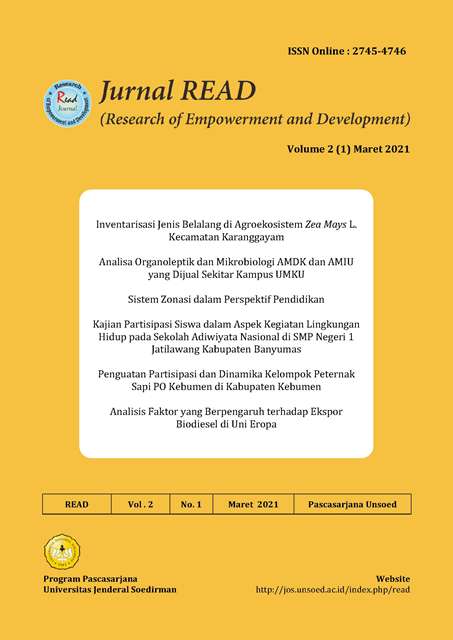 This work is licensed under a Creative Commons Attribution 4.0 International License.