Kajian Partisipasi Siswa dalam Aspek Kegiatan Lingkungan Hidup pada Sekolah Adiwiyata Nasional di SMP Negeri 1 Jatilawang Kabupaten Banyumas
Lenny Susanti

Program Studi Ilmu Lingkungan, Pascarjana, Universitas Jenderal Soedirman Purwokerto
Abstract
The success or failure of the Adiwiyata program implementation will be primarily determined by the level of student participation as learning subjects in schools.  For student care and participation to be well-formed following Adiwiyata goals, school programs that support environmental education are needed through extracurricular, extracurricular activities, and school development programs. This study aims to find whether there is a relationship between student ecological concern and the type of Adiwiyata activity with the level of student participation either partially or simultaneously in the Adiwiyata program at SMP Negeri 1 Jatilawang. The method used in this research is a survey method using a questionnaire as the main instrument for collecting data. The population in this study was 809 students of SMP Negeri 1 Jatilawang Banyumas, with a total sample of 89 students. The bivariate analysis uses Kendall's Tau Correlation (τ) or Tau from Kendall, while the multivariate use  Kendall's W concordat coefficient. The results show that the positive correlation coefficient is 0.757; this indicates that the student's environmental awareness variable (X1) has a strong relationship. "On student participation in the Adiwiyata program (Y). The variable of environmental activity type (X2) has a positive correlation coefficient of 0.824, which means it has an "extreme" level of closeness to student participation in the Adiwiyata program (Y). The two independent variables (X) are simultaneously related to the dependent variable (Y), as seen from the asymp-sig number, which is smaller than alpha 0.05. This study concludes that the variable of student participation in the Adiwiyata program at SMP Negeri 1 Jatilawang can be explained by students' environmental concerns and types of environmental activities, or in other words, it can be concluded that the variables of student environmental concern and types of ecological activities and types of environmental movements in This research has a positive correlation either partially or together significantly to the variable of student participation in the Adiwiyata program.
References
Aprilia. N. (2015). Evaluasi pengelolaan sarana pendukung yang ramah lingkungan pada program adiwiyata di SMP Muhammadiyah Yogyakarta. Prosiding Seminar Nasional Pendidikan Biologi 2015, yang diselenggarakan oleh Prodi Pendidikan Biologi FKIP Universitas Muhammadiyah Malang, tema: ―Peran Biologi dan Pendidikan Biologi dalam Menyiapkan Generasi Unggul dan Berdaya Saing Global‖, Malang, 21 Maret 2015
Arikunto, S. (2002). Prosedur Penelitian Suatu Pendekatan Praktek. Jakarta: Asdi Mahasatya.
Kementerian Negara Lingkungan Hidup. (2010). Panduan Sekolah Adiwiyata. Jakarta. KNLH.
Nazir, Moh. (2005). Metode Penelitian. Jakarta: Ghalia Indonesia.
Notoatmodjo. S. (2010). Metodologi Penelitian Kesehatan. Jakarta: Rineka Cipta
Putri, S.D.D., Atik, C.B., & Slamet, S. (2017). Strategi sekolah dalam membentuk perilaku peduli lingkungan terhadap siswa melalui program adiwiyata di SMA 5 Surakarta. SOSIALITAS; Jurnal Ilmiah Pend. Sos Ant. Vol 8, No 1 (2017).
Sugiharti. L.S. (2017). Partisipasi Siswa Dalam Pelaksanaan Program Sekolah Adiwiyata SMAN 11 Semarang. Unnes Semarang.
Sugiyono. (2009). Metode Penelitian Kuantitatif, Kualitatif dan R&D. Bandung: Alfabeta.
Sugiyono. (2010). Statistika Untuk Penelitian. Bandung: Alfabeta.
Sujana, F.A. (2014). Hubungan Antara Kualitas Produk Sepeda Motor New Honda Revo FI Dengan Proses Keputusan Pembelian Konsumen (Survei Pada Pengguna Sepeda Motor New Honda Revo FI di Kota Bandung). Jurnal Fakultas Bisnis dun Manajemen Universitas Widyatama Kota Bandung.
Sungkowo. (2005). Konsep Pendidikan Lingkungan Hidup Pada Jalur Pendidikan Dasar dan Menengah. Jakarta: Dikdasmen.
Suryosubroto. (2009). Proses Belajar Mengajar Di Sekolah. Jakarta: PT. Rineka Cipta.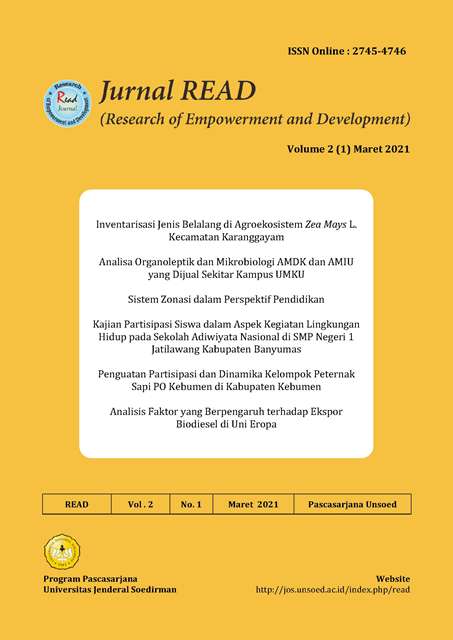 This work is licensed under a Creative Commons Attribution 4.0 International License.