Inventarisasi Jenis Belalang di Agroekosistem Zea Mays L. Kecamatan Karanggayam
Bagas Prakoso

Program Studi Biologi, Fakultas MIPA, Universitas Ma'arif Nahdlatul Ulama Kebumen

Fatwa Aji Kurniawan

Program Studi Fisika, Fakultas MIPA, Universitas Ma'arif Nahdlatul Ulama Kebumen
Abstract
This research aims to determine the types of grasshoppers and the diversity index of maize Zea mays L.) agroecosystems in Karanggayam district. This research was conducted using a field survey method. The parameters observed at each location included vegetation diversity, grasshopper collection and direct observation of orthoptera locusts. Samples were taken from the Zea mays L. agroecosystem and repeated three times. The study was conducted in June - August 2019. The results of this study were found as many as 346 individuals, four species consisting of Valanga nigricornis (Burmeister), Gesunola mundane (Walker), Atractomorpha crenulata, and Oxya hyla intricate (Stal). Three genera consisting of Valanga, Gesunola, and Oxya belong to the Acrididae family, while one genus, namely Atractomorpha, is included in the Pyrgomorphidae family. Shannon-Weiner (H') insect diversity index at station 1 is 1.124 (moderate), station 2 of 0.979 (low), station 3 of 0.449 (low), station 4 of 1.213 (moderate), station 5 of 0.884 (low) and station 6 of 1.035 (moderate).
References
Adnan, A. M. (2009). Tekhnologi Penanganan hama Utama Tanaman Jagung. Prosiding Seminar Nasional Serealia.
Akthar, M. H., Nayeem, M. R., Usmani, M. H. (2014). Abundance, Distribution and Taxonomic Studies on Hemiacrididae (Acridiade: Acridoidea: Orthoptera) in Uttar Pradesh, India. Journal of global biosciences, 3(6),48-52.
Almeida, A.V., dan Camara, C.A.G. (2008). Distribution of Grasshoppers (Othoptera: Acridoidea) in The Tapacurá Ecological Station (São Lourenço da Mata, PE / Brazil). Braz. J. Biol, 68(1), 21-24.
Badenhausser, I., Gross, N., Cordeau, S., Bruneteau, L. dan Vandier, M. (2015). Enhancing grasshopper (Orthoptera:Acrididae) communities in sown margin strips: the role of plant diversity and identity. Arthropod-Plant Interaction.
Borror, D. J., Triplehor, N., and Johnson, N. F. Pengenalan Pelajaran Serangga Edisi ke-Enam. Terjemahan oleh Dr. H Setiyono Partosoedjoyono. (1989). Gajah Mada university Press, Yogyakarta.
Child, Robert E. (2007). Insect Damage as a Function of Climate. Museum Microclimates, T. Padfield & K. Borchersen (eds) National Musseum of Denmark.
Erniawati.. (2009). Keanekaragaman dan Sebaran Serangga Di Kawasan Pulau-pulau Kecil Taman Nasional Karimunjawa. Berita Biologi, 9 (4), 349-358.
Indriyanto. (2015). Ekologi Hutan. Jakarta : PT Bumi Aksara.
Johnson, D. L. (2008). Grasshopper identification and control methods to protect crops and the environment. Agriculture and Agro-food Canada.
Louveauex, A., Amedegnato, C., Poulain, S. dan Desutter-Grandcolas, L. (2013). Catalogue and keys of the Acidomorpha (Insecta, Orthoptera) from north West Africa. Zoosystema, 35 (2), 175-181.
Mariottini, Y., De Wysiecki, M.L. and Lange, C.E., (2012). Variación temporal de la riqueza, composición y densidad de acridios (Orthoptera: Acridoidea) en diferentes comunidades vegetales del Sur de la provincia de Buenos Aires. Revista de la Sociedad Entomológica Argentina, 71, 3-4.
Martin and Bateson. (1993). Measuring Behaviour. An Introductory Guide. Ed 2. Cambridge University Press, Cambridge.
Nety, V. E. Sih Kahono., (2010), Keanekaragaman dan Kelimpahan Belalang dan Kerabatnya (Orthoptera) pada Dua Ekosistem Pegunungan di Taman Nasional Gunung Halimun-Salak. Bogor : FMIPA IPB, 7 (2).
Nikam, K.N., dan S.V. More. (2016). Diversity of long horned grasshopper (Orthoptera: Tettigoniidae) in Pargad fort, Chandgad, Kolhapur district of Maharashtra (India). Biolife, 4 (2), 224-227.
Ogedegbe, A. B.O., and Amadasun, G.I. (2011). Diversity of Grasshoppers in Two Forest Ecosystems in Southern Nigeria. African Scientist, 12, 3.
Pierre, M. and M. Pollit. (2008). Crickets and grasshoppers a guide to their identification and distribution in Dumfries and Galloway. Dumfries and Galloway Environmental Resources Centre.
Prakoso, B., (2017). Biodiversitas Belalang Acrididae: Ordo Orthoptera) pada Agroekosistem Zea mays L. dan Ekosistem Hutan Tanaman Di Kebun Raya Baturaden, Banyumas. http://DOI: 10.20884/1.mib.2017.34.2.490.
Sugiarto, A., Inventarisasi Belalang (Orthoptera: Acrididae) di Perkebunan dan Persawahan Desa Serdang Menang, Kecamatan Sirah Pulau Padang, Kabupaten Ogan Komering Ilir. Insect village, 1 (3), 7-10.
Wikipedia. Karanggayam, Kebumen, 13 Mei (2017). https://id.wikipedia.org/wiki/Karanggayam,_Kebumen diakses pada 02 Agustus 2018.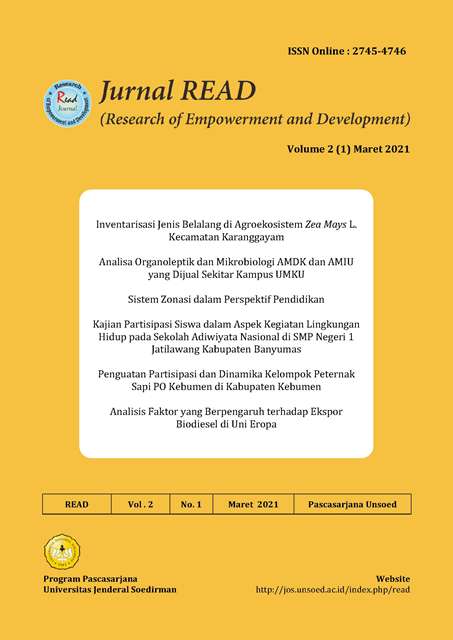 This work is licensed under a Creative Commons Attribution 4.0 International License.