Upaya Peningkatan Pengetahuan tentang Rumah Sehat pada Masyarakat Di Ds.Kiyonten, Kec. Kasreman Kabupaten Ngawi
dhian luluh rohmawati

Akper Pemkab Ngawi

Raudhotun Nisak

Akper Pemkab Ngawi
Abstract
Abstrak
Rumah merupakan suatu bangunan yang digunakan untuk tempat tinggal yang layak untuk dihuni. Rumah yang sehat harus memiliki konsep kebersihan, kesehatan dan keindahan. Jika rumah menjadi tidak sehat maka akan menimbulkan banyak masalah. Dusun Pondok, Desa Kiyonten, Kec. Kasreman, Kab. Ngawi terdiri dari 3 RT yaitu RT 04, 05 dan 06 yang masih memiliki rumah yang belum memenuhi kriteria rumah yang sehat. Tujuan dari pengabdian masyarakat ini adalah memberikan pendidikan kesehatan terkait dengan kriteria rumah sehat sehingga diharapkan masyarakat mengetahui dan mampu untuk menerapkan rumah yang sehat di rumahnya. Metode yang digunakan adalah dengan memberikan penyuluhan melalui ceramah dan leaflet. Materi yang disampaikan antara lain definisi rumah sehat, kriteria rumah sehat, syarat rumah sehat dan akibat jika rumah menjadi tidak sehat. Sasaran pengabdian masyarakat ini adalah warga Dusun Pondok. Saat acara berlangsung warga antusias mendengarkan dan aktif bertanya, secara keseluruhan kegiatan berjalan dengan lancar, masyarakat memberikan respon baik terhadap acara yang telah dilaksanakan.
Kata kunci : ceramah, leaflet, penyuluhan, rumah sehat
Abstract
A house is a building that is used as a place to live that is suitable for habitation. A healthy home must have the concept of cleanliness, health and beauty. If the house becomes unhealthy it will cause many problems. Dusun Pondok, Desa Kiyonten, Kec. Kasreman, Kab. Ngawi consists of 3 RTs, namely RT 04, 05 and 06 which still have houses that do not meet the criteria for a healthy house. The purpose of this community service is to provide health education related to the criteria for a healthy house so that people are expected to know and be able to implement a healthy house in their house. The method used is to provide counseling through lectures and leaflets. The material presented includes the definition of a healthy house, criteria for a healthy home, requirements for a healthy house and consequences if the house becomes unhealthy. The target of this community service is the residents of the Dusun Pondok. When the event was taking place, the residents were enthusiastic about listening and actively asking questions, overall the activities went well, the community responded well to the events that had been carried out.
Keywords : counseling, healthy home, leaflet, lecture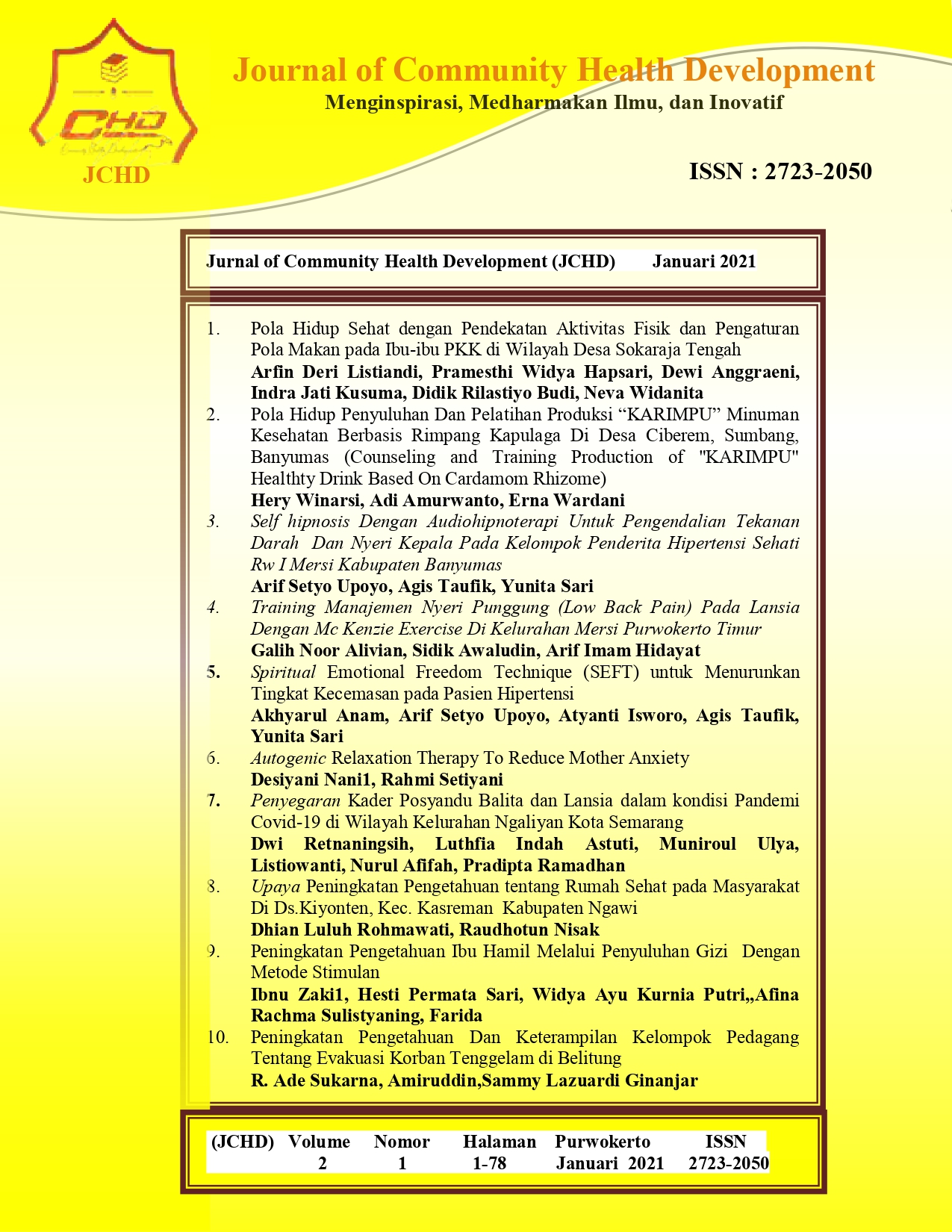 How to Cite
ROHMAWATI, dhian luluh; NISAK, Raudhotun. Upaya Peningkatan Pengetahuan tentang Rumah Sehat pada Masyarakat Di Ds.Kiyonten, Kec. Kasreman Kabupaten Ngawi.
Jurnal of Community Health Development
, [S.l.], v. 2, n. 1, p. 59-64, feb. 2021. ISSN 2723-2050. Available at: <
http://jos.unsoed.ac.id/index.php/jchd/article/view/3605
>. Date accessed: 26 mar. 2023.