Pola Hidup Penyuluhan Dan Pelatihan Produksi "KARIMPU" Minuman Kesehatan Berbasis Rimpang Kapulaga Di Desa Ciberem, Sumbang, Banyumas (Counseling and Training Production of "KARIMPU" Healthty Drink Based On Cardamom Rhizome)
Hery Winarsi

Jenderal Soedirman University

Adi Amurwanto

Erna Wardani
Abstract
Kegiatan ini bertujuan untuk memberikan penyuluhan dan pelatihan produksi minuman kaya antioksidan rimpang kapulaga di desa Ciberem, Sumbang, Kabupaten Banyumas. Metode yang digunakan adalah partisipasi aktif dari mitra atau peserta dalam kegiatan ini dengan didampingi oleh tim dari perguruan tinggi yang berperan sebagai penyuluh dan fasilitator. Persiapan pelaksanaan kegiatan adalah seleksi khalayak sasaran yang strategis, sanggup dan mampu melaksanakan seluruh kegiatan. Sebanyak 20 ibu-ibu, isteri petani kapulaga dan masyarakat desa setempat berperan sebagai peserta. Dilakukan pre-test dan post-test. Sosialisasi produk minuman dan manfaatnya, pengadaan peralatan, dan pelatihan produksi minuman berbasis rimpang kapulaga. Hasil kegiatan ini menunjukkan bahwa peserta sangat antusias, tampak dari peningkatan nilai test dari cukup menjadi sangat baik. Peserta memiliki pengetahuan dan ketrampilan membuat produk minuman rimpang kapulaga. Harapannya, dengan pelatihan yang berkelanjutan dapat bermanfaat untuk perbaikan kesehatan dan pendapatan masyarakat.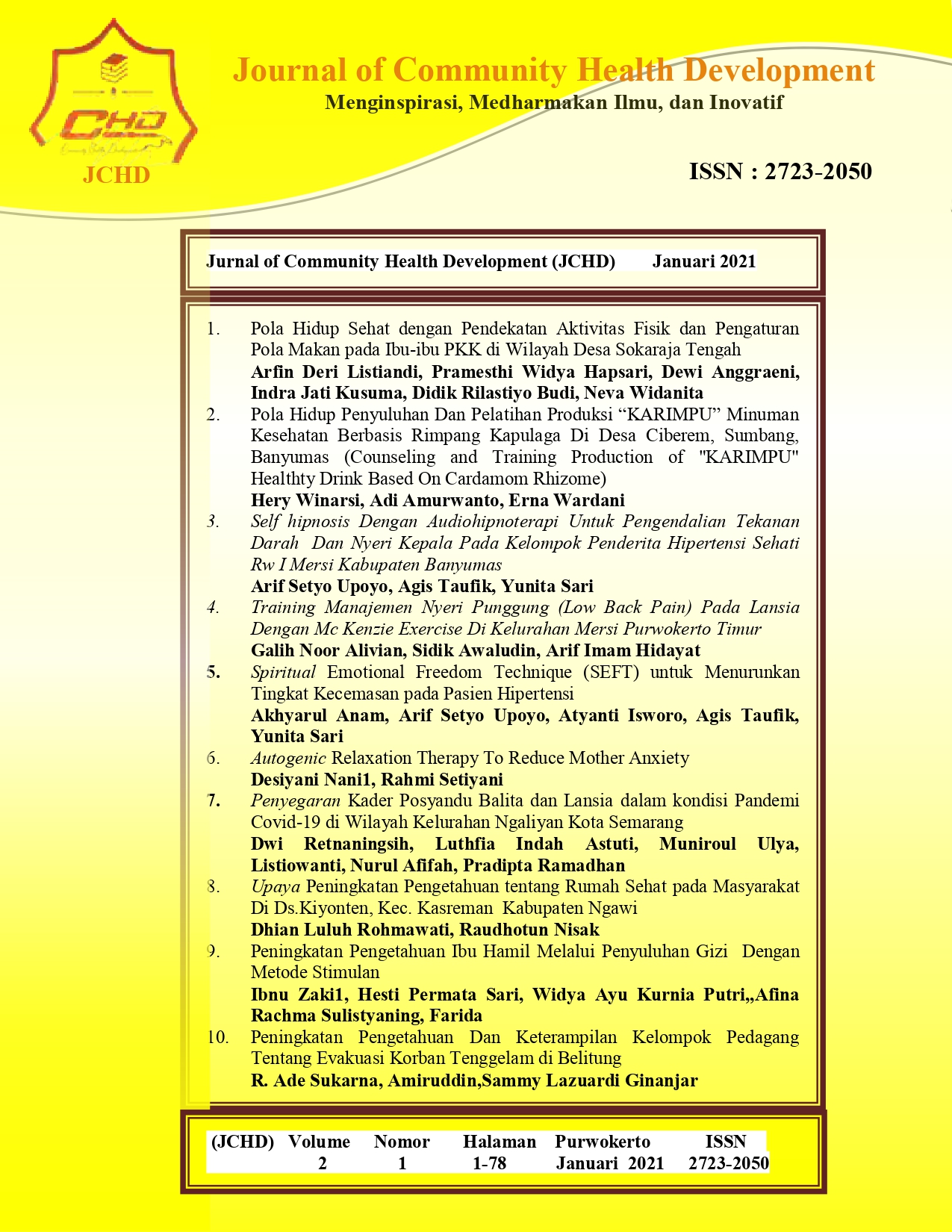 How to Cite
WINARSI, Hery; AMURWANTO, Adi; WARDANI, Erna. Pola Hidup Penyuluhan Dan Pelatihan Produksi "KARIMPU" Minuman Kesehatan Berbasis Rimpang Kapulaga Di Desa Ciberem, Sumbang, Banyumas (Counseling and Training Production of "KARIMPU" Healthty Drink Based On Cardamom Rhizome).
Jurnal of Community Health Development
, [S.l.], v. 2, n. 1, p. 13-23, feb. 2021. ISSN 2723-2050. Available at: <
http://jos.unsoed.ac.id/index.php/jchd/article/view/2774
>. Date accessed: 26 mar. 2023.