Autogenic Relaxation Therapy To Reduce Mother Anxiety
Desiyani Nani

Rahmi Setiyani

Universitas Jenderal Soedirman
Abstract
Orang tua yang memiliki anak dengan retardasi mental sering mengalami gangguan kecemasan karena perasaan tidak mampu merawat anak tersebut. Salah satu terapi modalitas populer adalah teknik relaksasi autogenik yang bertujuan untuk mengatasi gejala gangguan fisik dan mental. Berdasarkan data jumlah orang dengan retardasi mental di Kabupaten Banyumas, 225 anak mengalami retardasi mental. Sekolah Luar Biasa Banyumas Yakut dan Kuncup Mas Banyumas memiliki 63 siswa dengan keterbelakangan mental. Pendidikan dan pelatihan kesehatan dalam terapi relaksasi autogenik diberikan kepada orang tua dengan anak-anak retardasi mental yang menghadiri Sekolah Khusus Yakut. Indikator penurunan kecemasan dengan mengukur respons fisiologis tubuh peserta sebelum dan sesudah terapi. Setelah terapi relaksasi autogenik untuk peserta ada penurunan frekuensi pernapasan 0,6%, penurunan denyut nadi 3,05%, penurunan tekanan darah sistolik 6,4%, dan penurunan tekanan darah diastolik 3,5%.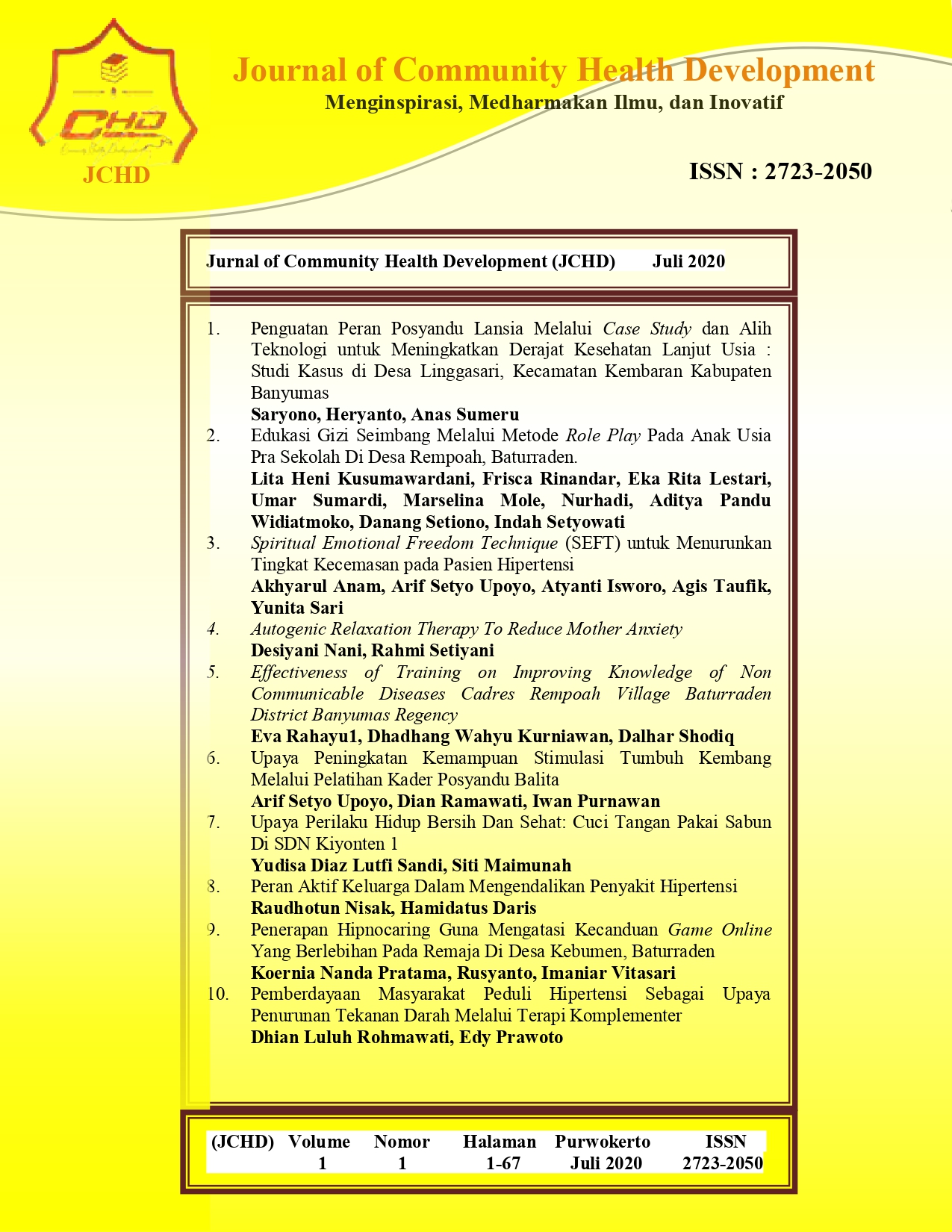 How to Cite
NANI, Desiyani; SETIYANI, Rahmi. Autogenic Relaxation Therapy To Reduce Mother Anxiety.
Jurnal of Community Health Development
, [S.l.], v. 1, n. 01, p. 21-26, may 2020. ISSN 2723-2050. Available at: <
http://jos.unsoed.ac.id/index.php/jchd/article/view/2707
>. Date accessed: 26 mar. 2023.